Last Updated on August 24, 2022
When it comes to bringing tripods on to planes there are two restrictions you need to consider.
First, the restrictions imposed by the TSA on what you can bring on flights.
And second, the size and weight limits your airline imposes on luggage.
Let's take a look at both of these areas.
TSA Tripod Rules
The Transportation Security Administration is responsible for maintaining security on flights and this means they try to prevent passengers from bring any weapons or any makeshift weapons into the cabin.
Since you can whack someone over the head with it the wrong type of tripod might potentially be considered to be a weapon. So the question is, does the TSA consider a camera tripod to be a weapon?
Here is what is says on the TSA website about tripods and the screening process:


Can You Bring A Tripod In Checked Luggage?
You can bring a tripod in checked luggage without restrictions. Since the tripod is locked away in the hold during the flight it can't be used as a weapon.
However, keep in mind that there is always a risk tripods, monopods, photographic equipment, other camera gear, or anything valuable could be lost or stolen if packed in checked baggage when flying.
Any gimbal batteries should be removed and packed in hand luggage since batteries can pose a fire risk in checked bags.
Can You Bring A Tripod In Carry-On Bags?
The short answer is that yes, in principle, you can bring tripods on a plane in your carry-on bag.
But notice it says that "The final decision rests with the TSA officer on whether an item is allowed through the checkpoint."
To try to get more clarity I checked what the TSA was saying about bringing a tripod on a plane on Twitter.
Jackson asked the TSA, "Is a camera tripod allowed on flights?", and got a more detailed answer.
The TSA replied, "Generally, tripods are allowed in carry-on bags. However, even if an item is generally permitted, it may be subject to additional screening or not allowed if it triggers an alarm during the screening process or poses other security concerns based on its size or weight. The final decision rests with our checkpoint officers."
What the TSA is concerned about is that an especially heavy tripod could be used as a bludgeon. So they are not giving the green light to every tripod and airport security has the final say.
Naturally, if you have an especially sturdy tripod you will worry that it won't be permitted through the security checkpoint.
If your tripod was stopped at security you have very limited options.
You can ship it home if the airport has a postal facility, but who has time for that at the airport. Or you could return it to a parked vehicle or if someone who wasn't traveling with with you you could give it to them.
Realistically you would probably choose to either go back to the check-in desk and check your luggage or surrender the tripod stand to the TSA. The TSA won't store anything for you at the airport that you can collect later.
Size and weight are the main factors that determine when an item is considered to be too dangerous to be brought on the plane. Any tripod that has spike feet might not be permitted because of the danger of the spikes.
For that reason it's best to pack a travel tripod that is lightweight and collapsible.
This travel tripod only weights 1.5 lbs and is unlikely to be stopped at airport security:
The fact that it is lightweight and made from carbon fiber means that it won't be viewed as a potential weapon.
Size is also important and not only from the point of view of airport security. Every item that you bring on a plane must comply with your airlines luggage size restrictions.
Tripods And Airline Carry-On Dimensions
The most common carry-on size limit in the US is 22 x 14 x 9 inches.
Ideally you will travel with a tripod that is compact enough to fit inside your carry-on bag. So the folded length should be under 22 inches or a little more if packed diagonally. Your tripod will definitely need to either fit in the overhead bin or under the seat.
Low-cost airlines like Spirit or Frontier enforce these size restrictions more strictly.
Full-service airlines are more likely to allow exceptions for oversize camera equipment providing it still fits under the seat. You might be permitted to bring a tripod as your personal item.
For example, Swati asked Frontier airlines if she could bring her tripod on the plane.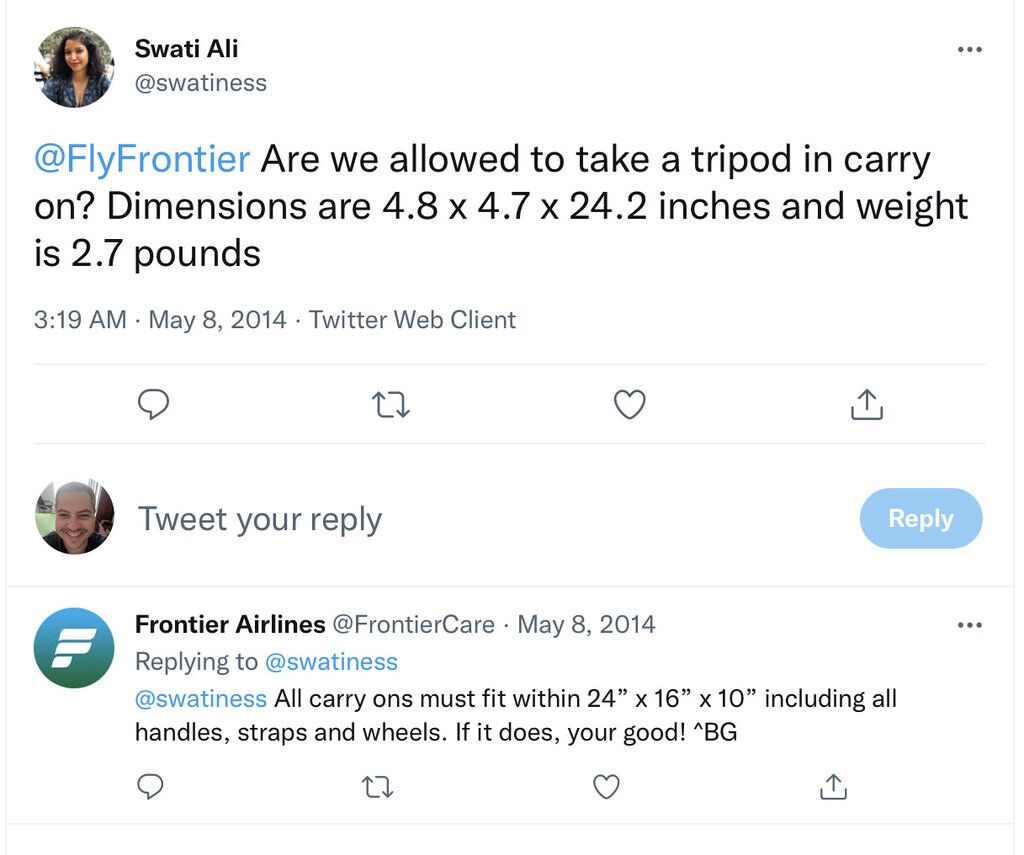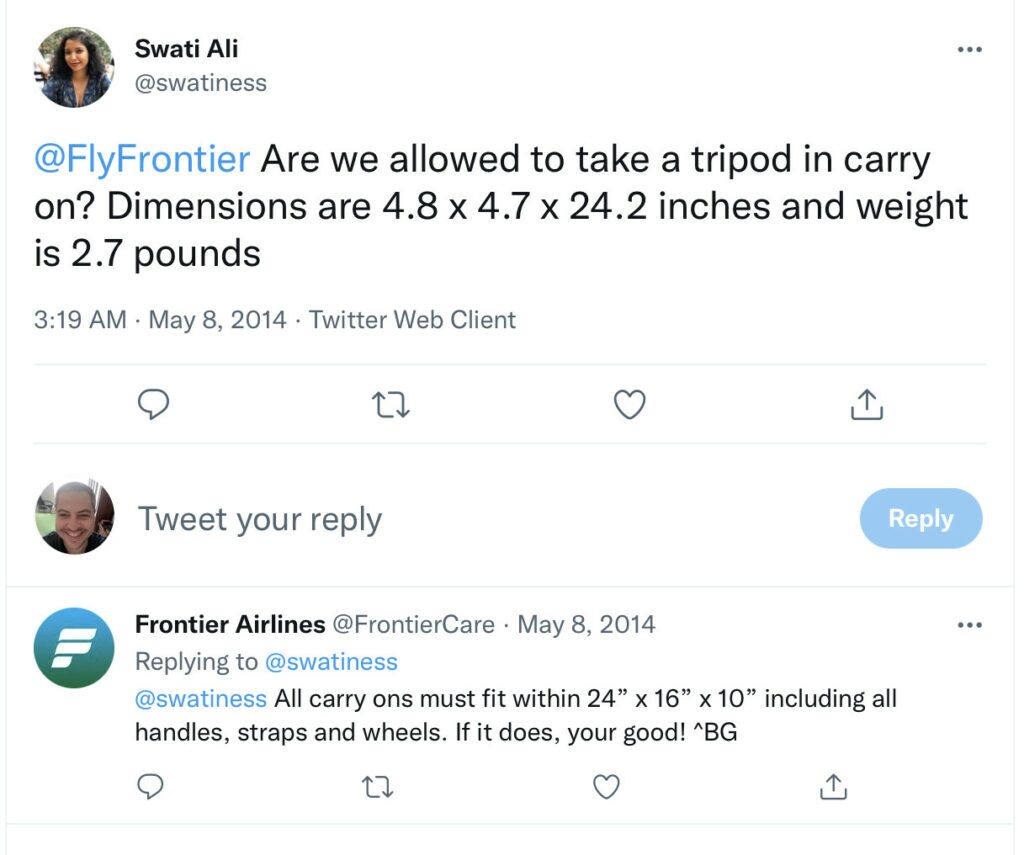 They told her it must fit inside her carry-on luggage allowance.
On the other hand, Denise asked United airlines if she could take a tripod on the plane that wouldn't be packed inside her carry-on bag.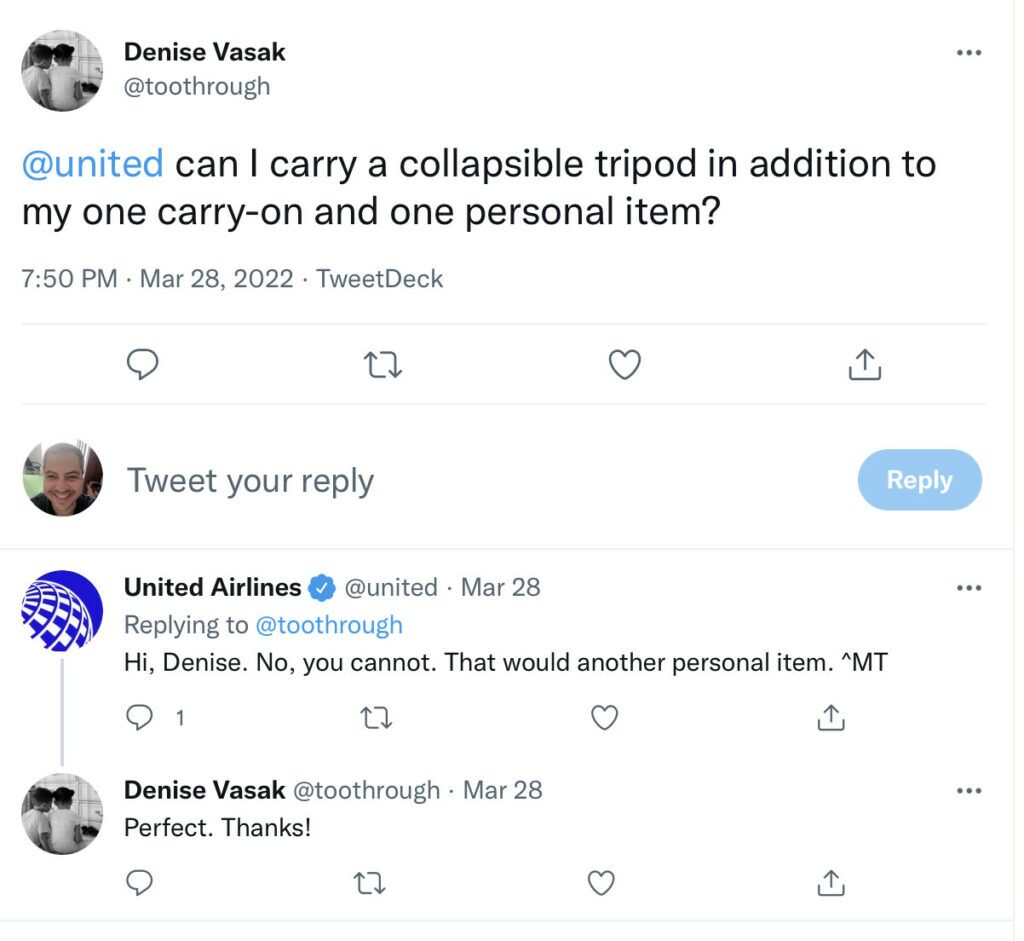 Some United Airlines fares allow you to bring two bags on to the plane. One carry-on bag and one personal item bag. If Denise packed her handbag inside her carry-on luggage should would be able to bring her tripod using her personal item allowance.
Greg asked Southwest airlines if he could bring a tripod that wouldn't fit inside his carry-on on to the flight: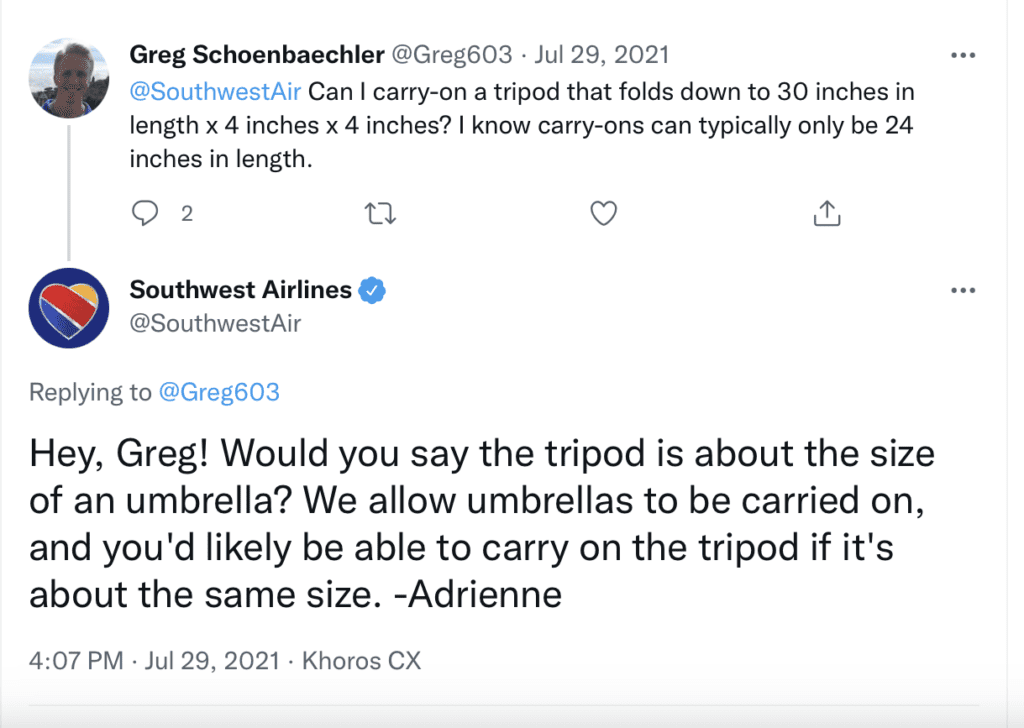 Southwest are renowned for their generous luggage allowance and told Greg that as long as it was around the size on an umbrella he'd likely be able to carry the tripod on the plane.
So if your tripod won't fit inside your carry-on suitcase check with your airline whether they will allow you to bring it using your personal item allowance.
The Bottom Line
It's impossible to give a definitive answer on whether a tripod will be allowed on the plane.
You generally can bring a tripod in carry-on luggage but the final decision is taken by the TSA officer at the security checkpoint.
Smaller, lighter travel tripods will almost certainly be okay and you'll be able to pack them inside your carry-on luggage or backpack if you have space. A portable tripod will be more likely to comply with any airline luggage size and weight restrictions too.
Larger, heavier tripods might be restricted by the individual TSA security officer who inspects your hand luggage at the security check point. And a large heavy tripod might be too big to fit inside your carry-on baggage meaning that the airline could stop you bringing it on board.
Keep in mind that for international flights you'll need to check the airport security rules for the country you are traveling in and their luggage allowances for any international airline you are flying with.
If you are a frequent flier consider signing up for TSA Precheck since that fact that you are pre-vetted for security clearance will reduce the risk of anything being confiscated at security.
You Might Also Like