Last Updated on March 16, 2023
Key Takeaways
Many skateboards exceed the carry-on size limits for budget airlines
Legacy airlines tend to have more generous carry-on size limits and may permit skateboards on the plane
You can bring a skateboard in checked baggage, but be aware of the risk of theft or loss. Consider shipping your board as an alternative
Most airlines let you bring two bags. If your skateboard is under the limits for your airline it will count as your carry-on
This will mean that you'll need to pack your clothes in a personal item size bag. Check out our packing light tips if you need to downsize how much you pack
Some skateboarders take their board with them wherever they go.
But can you take a skateboard on an airplane? What's the best way to pack a skateboard if you are flying.
Let's take a look at the rules.
TSA Skateboard Rules & Regulations
The Transportation Security Administration run the security checkpoint. Here is what they have to say about flying with skateboards.


Bringing A Skateboard In Carry-On Luggage
The TSA doesn't have a problem with passengers taking skateboards through airport security. However, they ask that you check with your airline for any size or weight restrictions.
At most, airlines allow you to bring two hand luggage items into the cabin. These are called the personal item and the carry-on. Skateboards, if they are under the size limits, count as one of your carry-on items.
Here's the bad news…
The most common carry-on luggage size limit in the United States is 22 x 14 x 9 inches.
Skateboards are typically between 28 and 33 inches in length. This makes them too long to qualify as carry-on luggage for most airlines.
However, some airlines allow you to use the linear inches method of measurement.
For example Alaska, Delta, Hawaiian say that your carry-on can be 45 linear inches.
This means that when you sum together the three dimensions of your luggage the combined value is less than 45 inches. So if you had a 30-inch skateboard it would be permissible so long as the other 2 dimensions (height and width) were less than 15 combined.
Carry-on luggage size limits are one of the reasons why you can now buy mini boards like this one.
The Hinaboard is just 19 inches long meaning that you can pack it inside your carry-on suitcase or backpack.
If your skateboard is too large to qualify as carry-on luggage with your airline then you'll be forced to check it.
Bringing A Skateboard In Checked Luggage
Many skateboards will fit inside a large checked suitcase. There are no restrictions that prevent you from packing a skateboard inside a checked bag.
There is always an element of risk when packing anything valuable in checked baggage. Unfortunately, items don't always make it to their destination. They can go missing, be stolen, or be damaged.
Removing the wheels from your board and packing them in your carry-on might mean there is less chance your board will be stolen.
There are also usually fees for checked bags so it can be expensive.
It might be worth looking into the cost to ship your skateboard to your destination as this could work out cheaper.
The checked luggage size limit is usually 62 linear inches. Some longboards could exceed this limit meaning they will also incur an oversize fee.
It's worth noting that if you have an electric board you can never pack the lithium battery in checked luggage. It must be removed and taken into the cabin.
Let's look at the popular airlines in the United States to see if they allow skateboards.
Airlines Skateboard Policies
Since the TSA don't view skateboards as a threat it's down to the individual airlines whether they allow you to bring a skateboard in to the cabin.
For bringing skateboards as checked luggage you should check your airlines rules on sports equipment.
Alaska Airlines
Cass asked Alaska if she can bring her skateboard as a carry-on without a bag.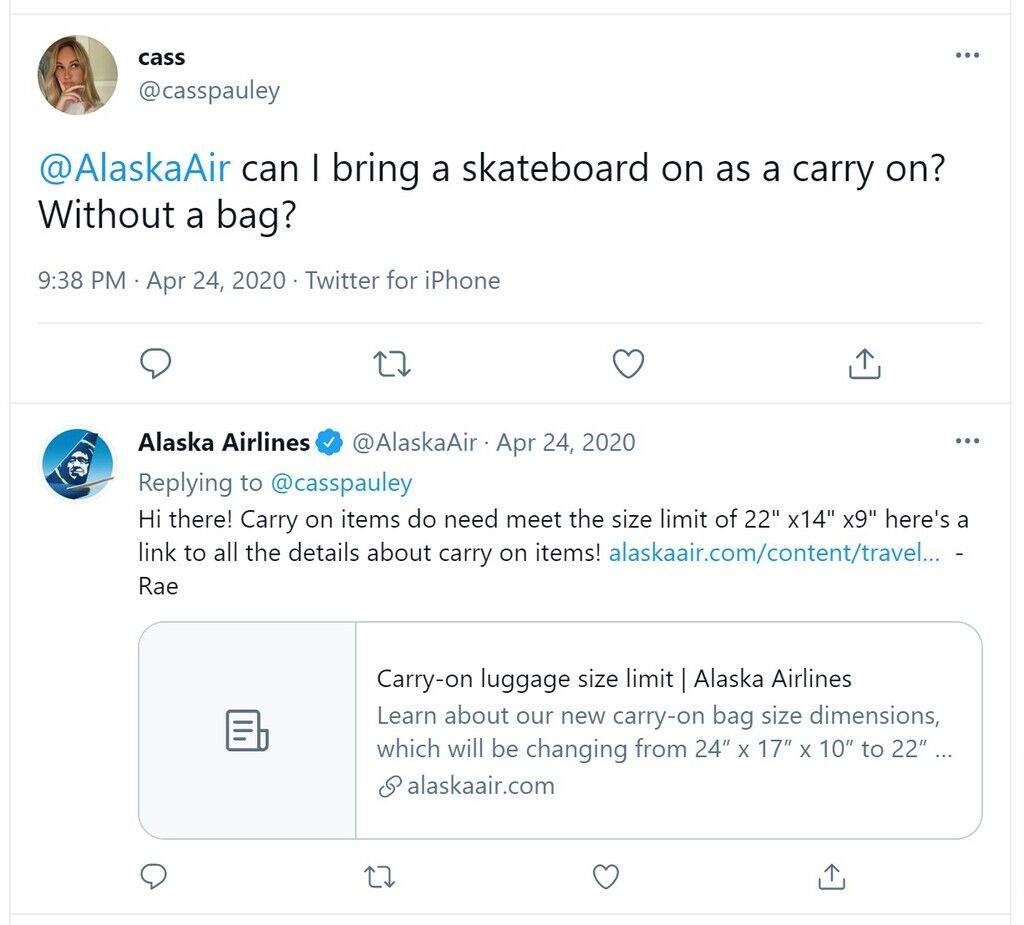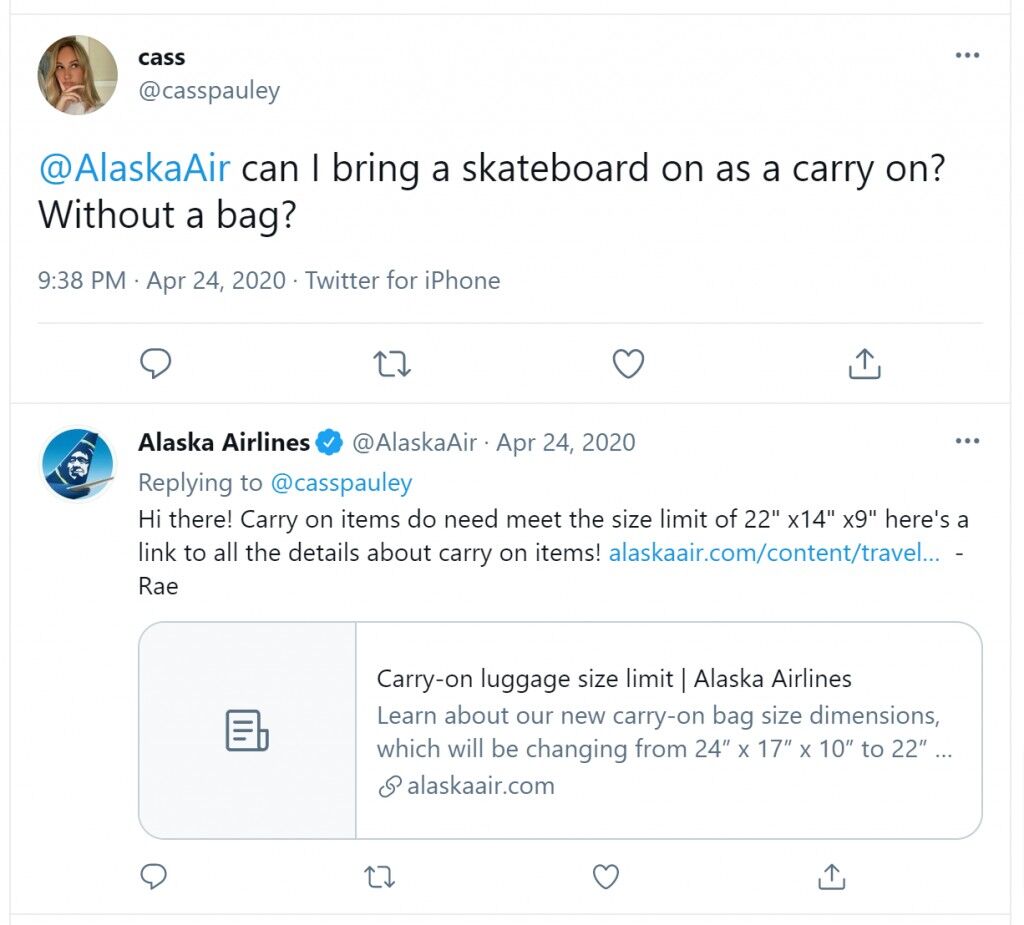 Alaska replied that it would need to be under the size limit. They forgot to mention that Alaska carry-on luggage can be measured using the linear inches method. If the sum of the 3 dimensions is less than 45 inches then Cass's skateboard should qualify according to Alaska's policies.
Allegiant
Allegiant told Graham that his skateboard should be packed inside a bag.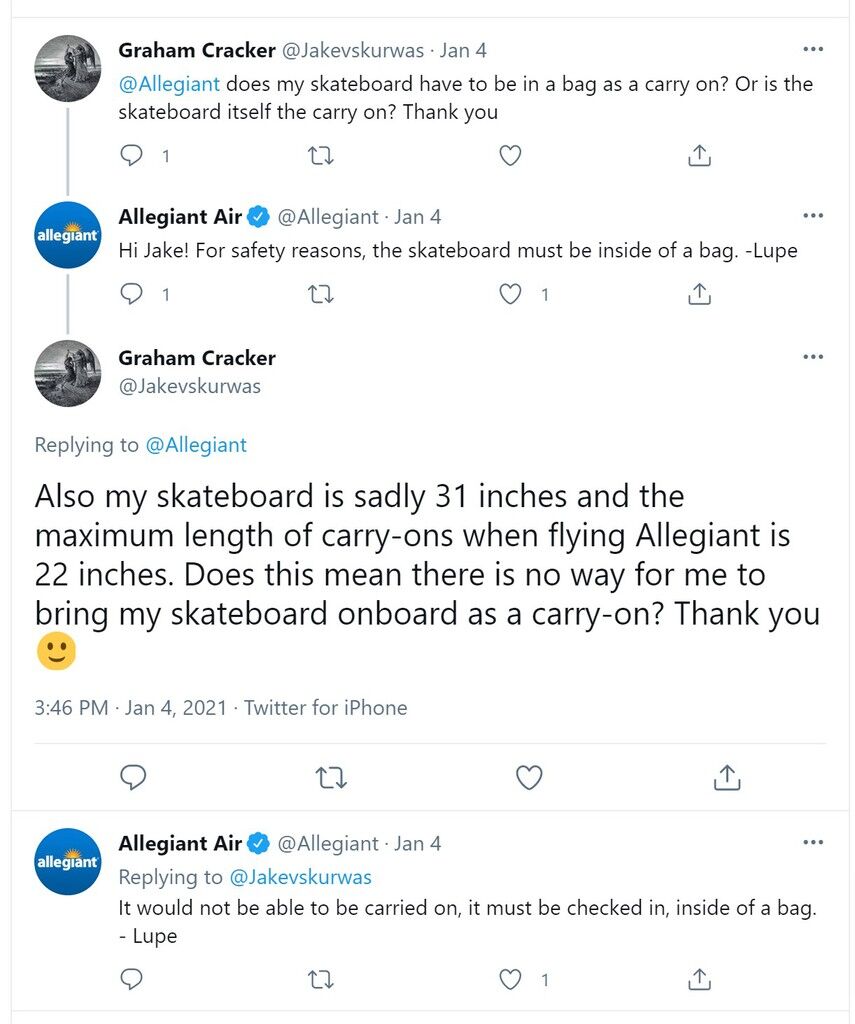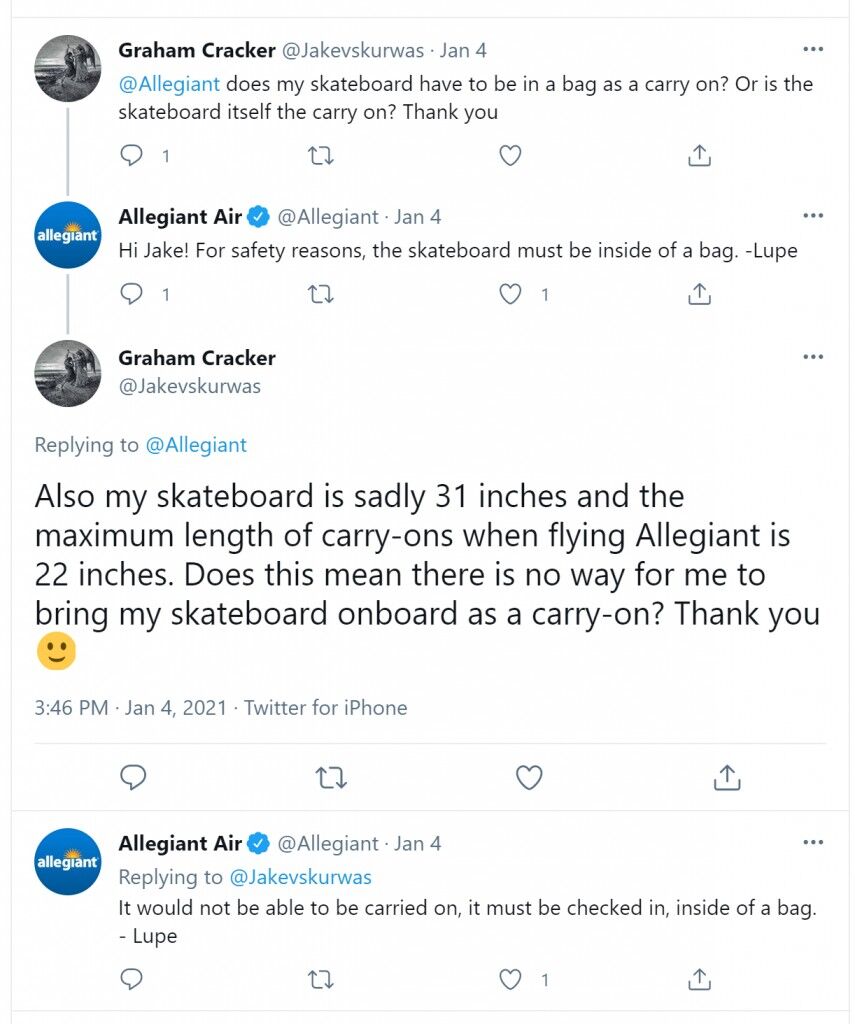 They also indicated that they would only accept skateboards as carry-ons if they were under the 22 inch length limit.
American Airlines
Mark was pretty annoyed that he was forced to check his skateboard when flying with American Airlines.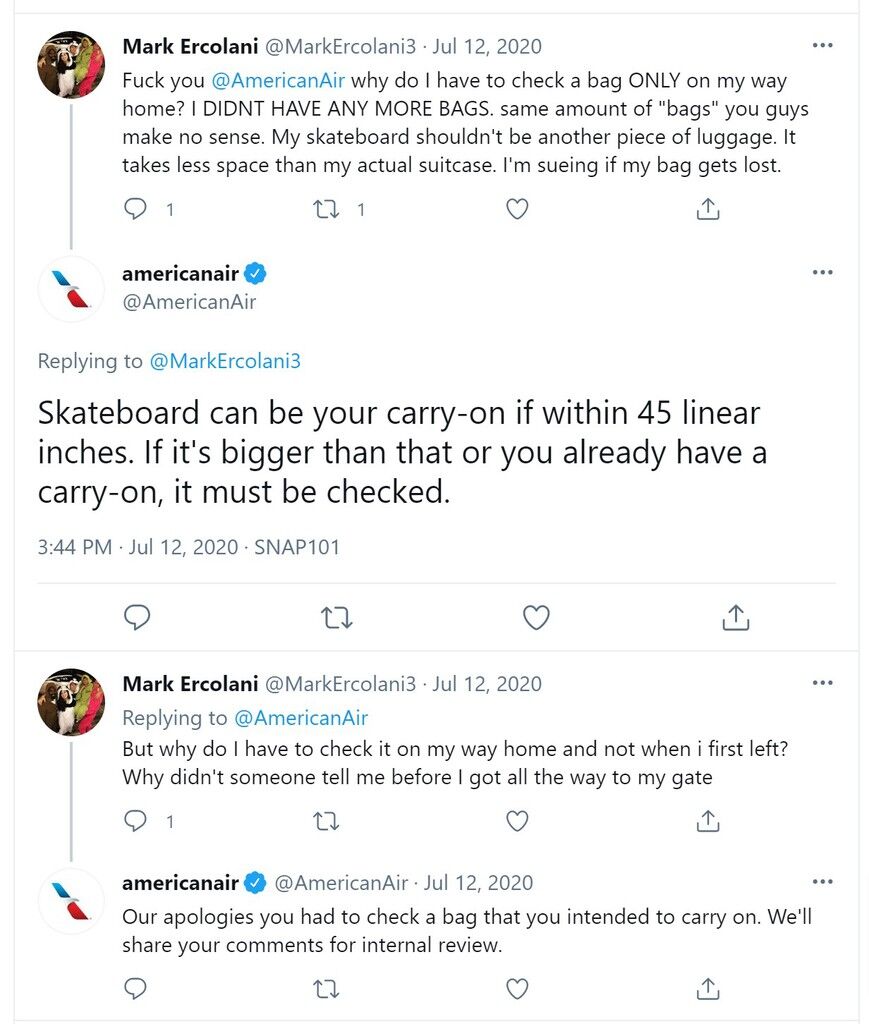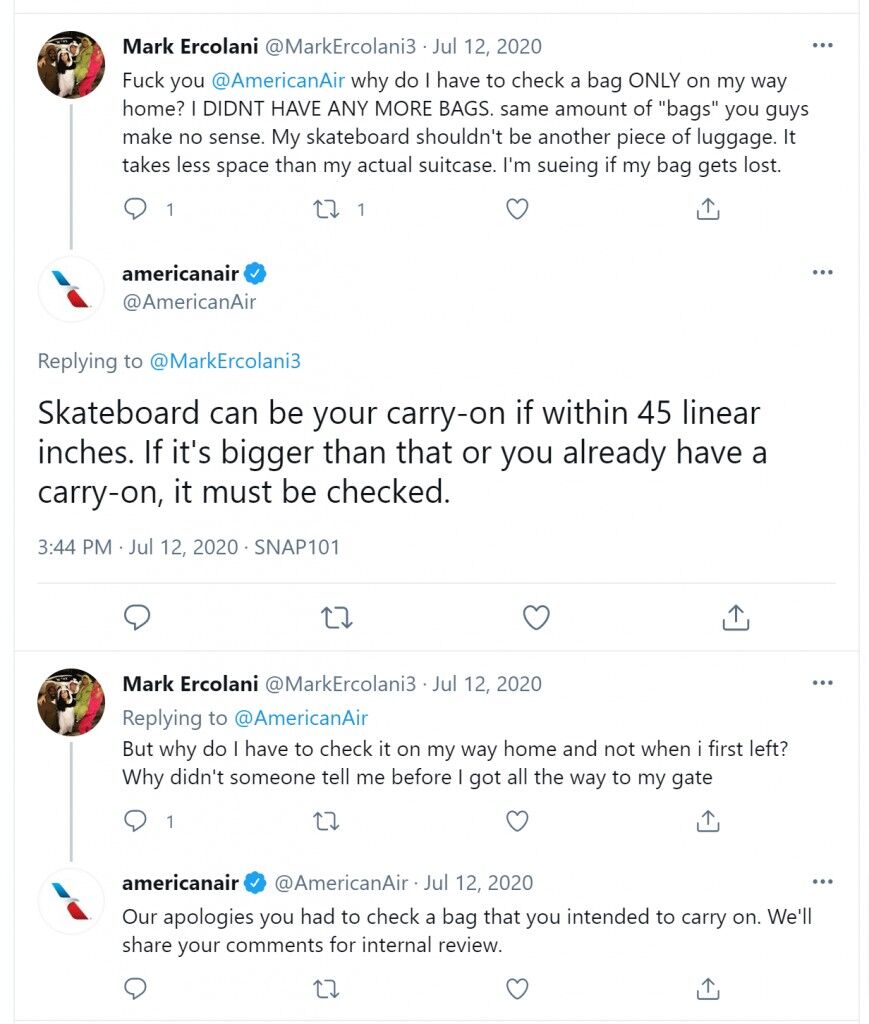 Interestingly AA mention the 45 linear inches measurement method even although they no longer talk about this on their website.
If you want to bring your skateboard with American Airlines I suggest calling them up and check if you can use the linear inches method to measure your skateboard. Most skateboards are under 45 linear inches.
Delta Airlines
This passenger asked Delta about bringing a longboard on the plane.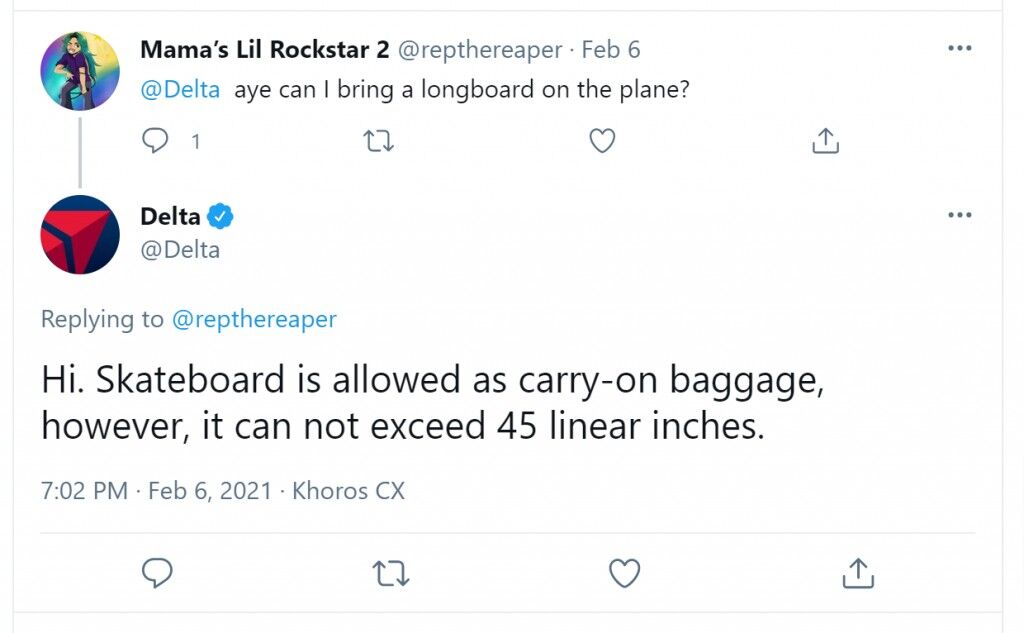 Delta allow a skateboard to be brought as carry-on baggage. Pack it in a bag and make sure the length + width + depth is less than 45 inches.
Since you are using your skateboard as your carry-on bag you might need to pack your clothes in your personal item bag that should go under the seat.
Frontier Airlines
This traveler wasn't happy when Frontier make him pay $45 to gate check his skateboard.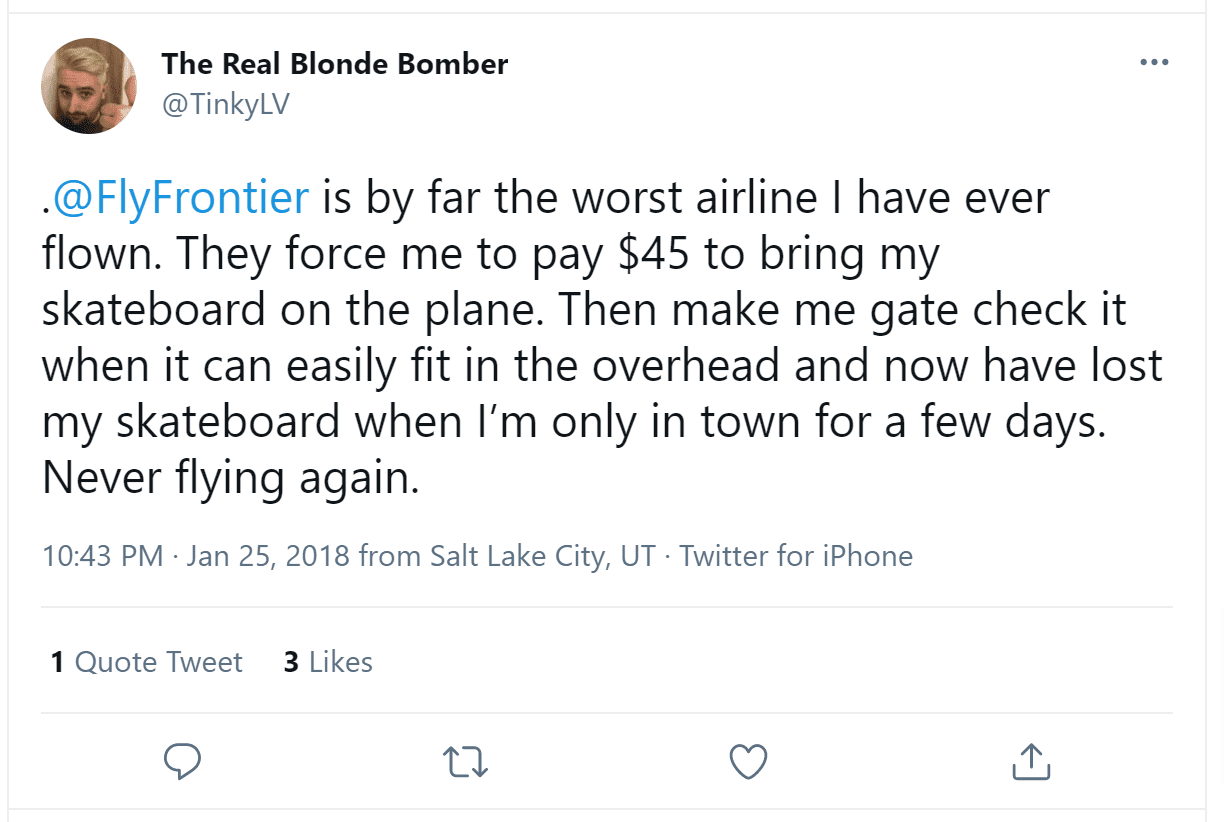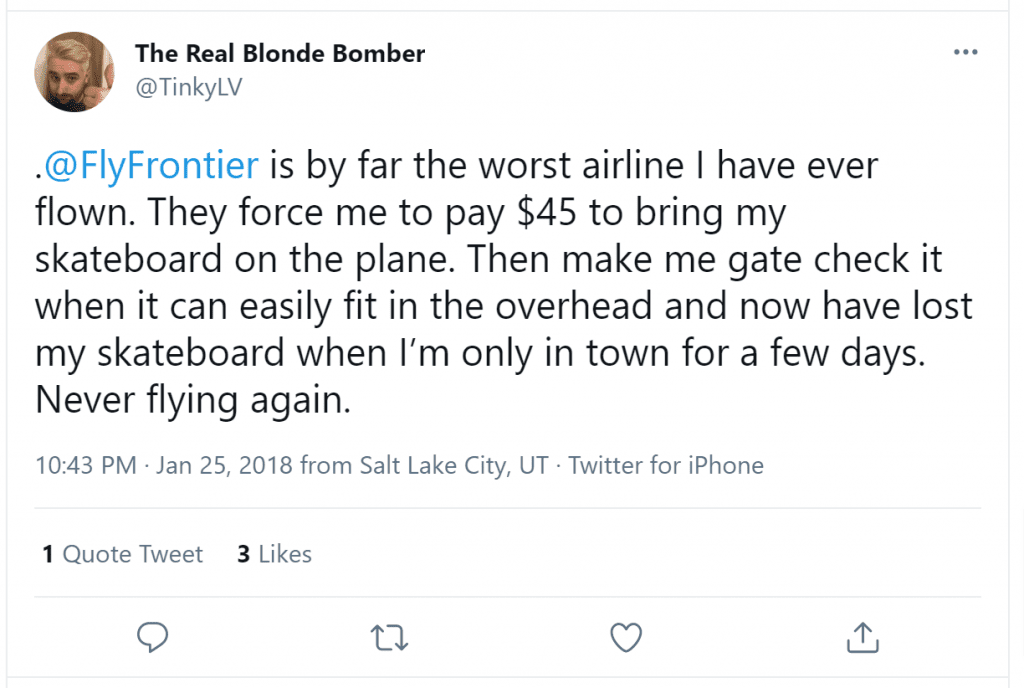 As a low-cost airline Frontier are strict about carry-on luggage policies.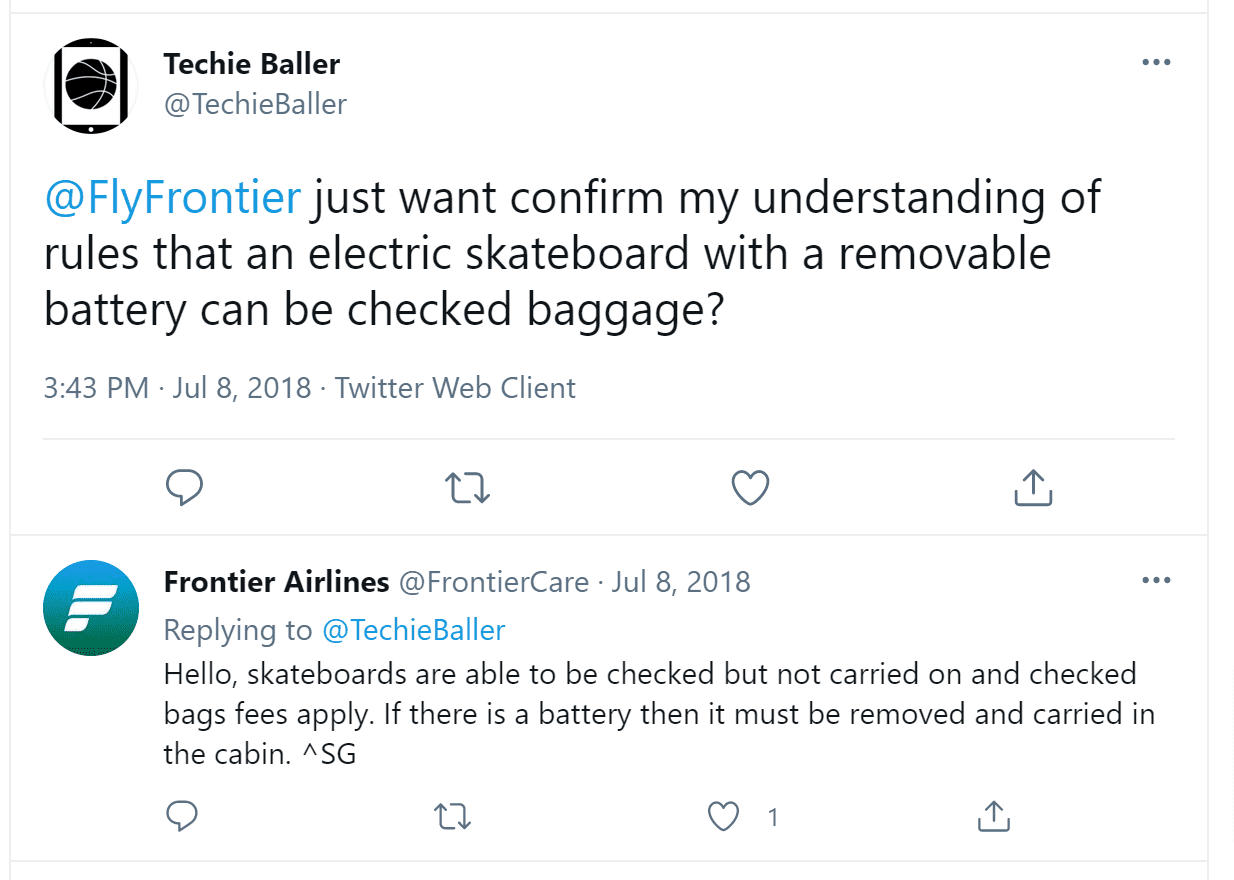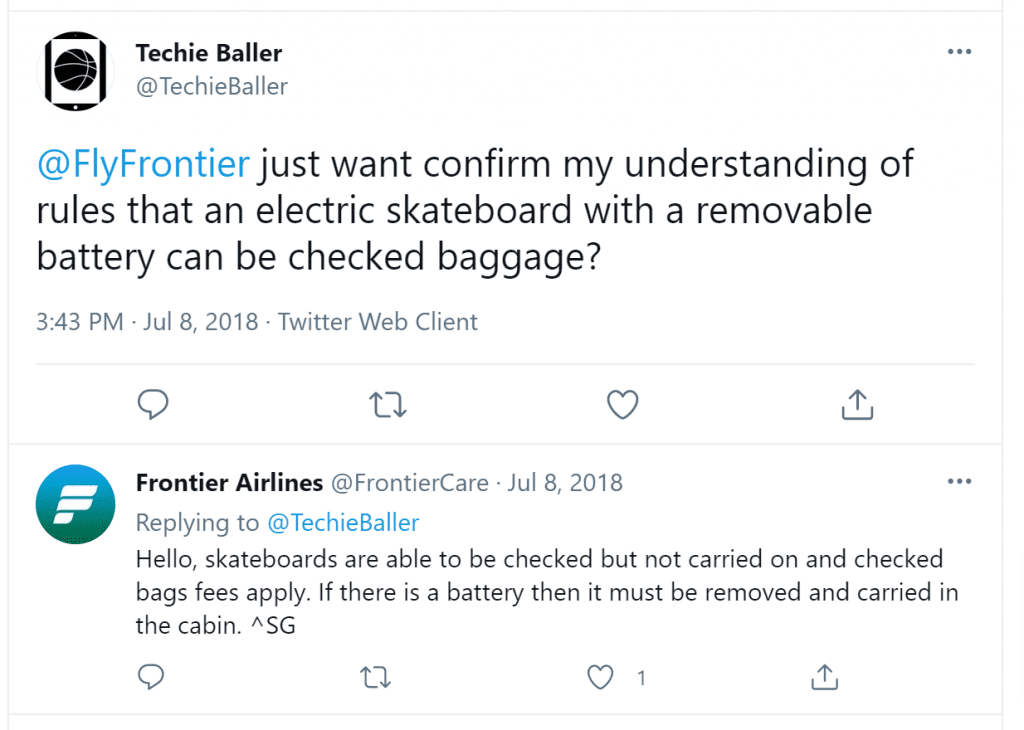 Hawaiian Airlines
This passenger asked Hawaiian about bringing his board.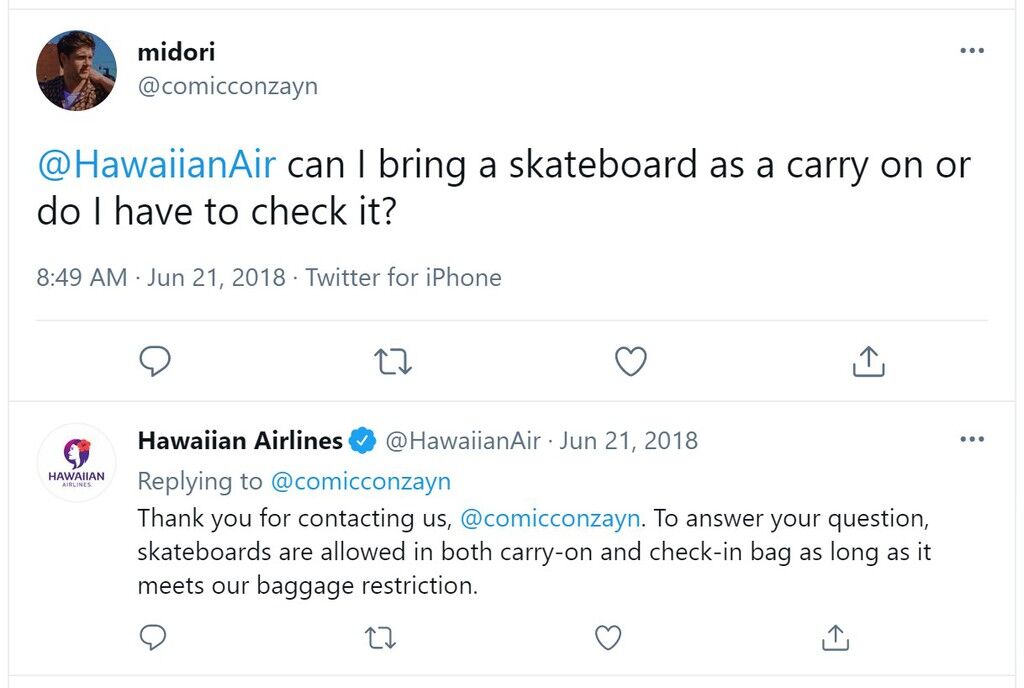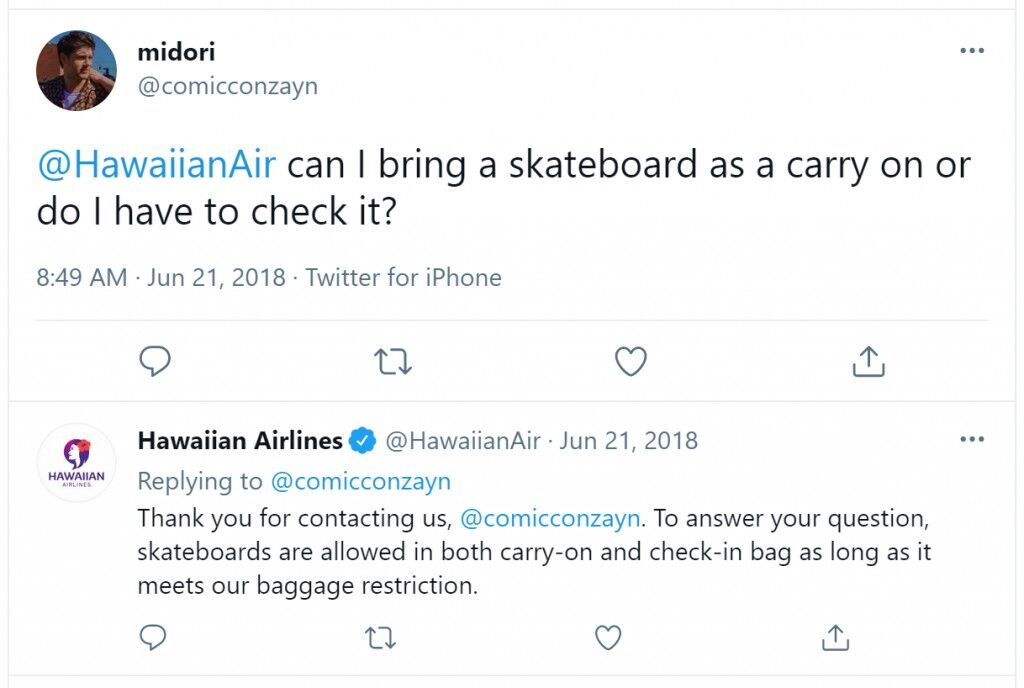 Hawaiian replied that it would be find so long as the board was under the maximum carry-on size limits.
Since they allow you to use the linear inches method of measuring your luggage then your skateboard will probably be fine to bring on a Hawaiian flight.
However since you've used up you carry-on allowance to bring your board you'll need to pack all your clothes in the under seat personal item bag.
JetBlue Airways
You can't bring three items on the plane. That wouldn't be fair on other passengers and space in the overhead bin is limited.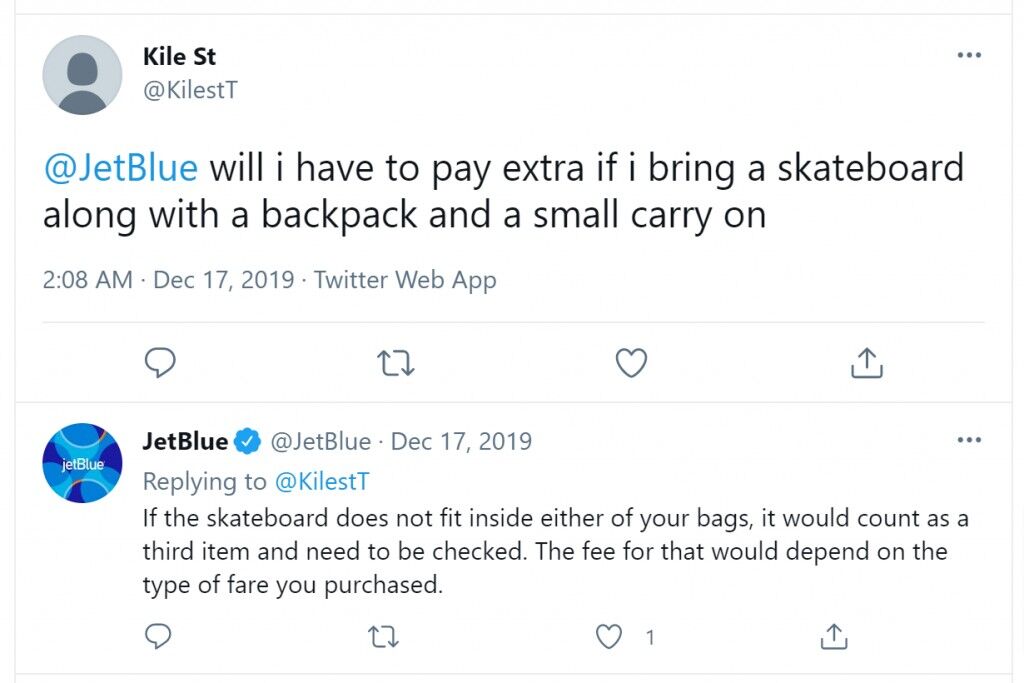 You can only bring a short board as a carry-on with JetBlue.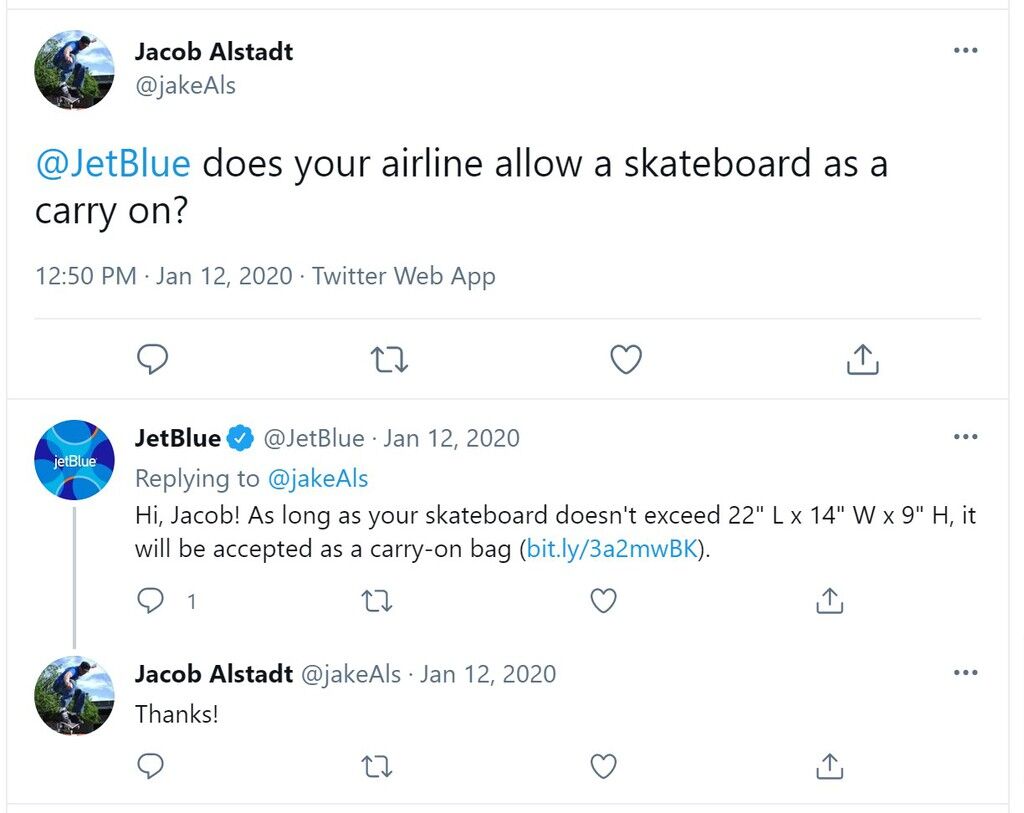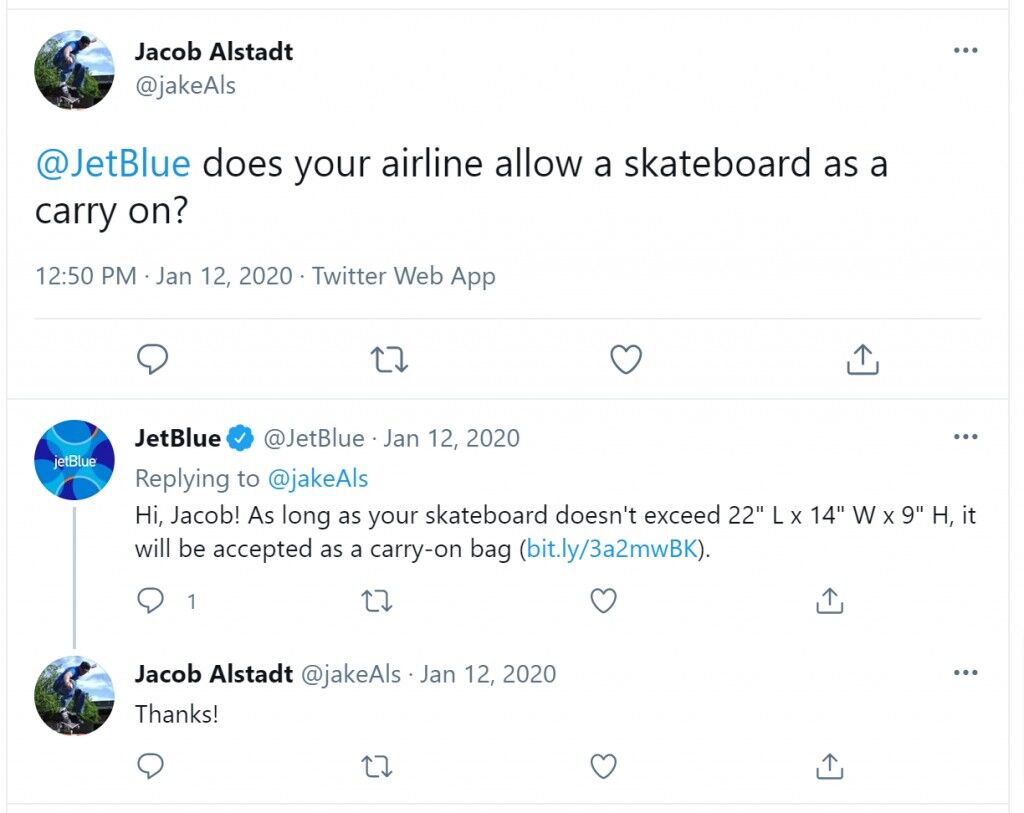 Southwest Airlines
Southwest have a relaxed attitude about luggage. Here's what they have to say about skateboards on their website.
Skateboard, may be substituted for a carryon or a checked bag. If the skateboard fits under the seat, it does not need to be in a bag or covered, but it does have to be stowed with the wheels up so that it doesn't roll. If stowed in an overhead bin, a skateboard must be stowed with the wheels up and needs to be in a bag or have the wheels covered (trash bag is acceptable) so as not to damage other articles.

Southwest Airlines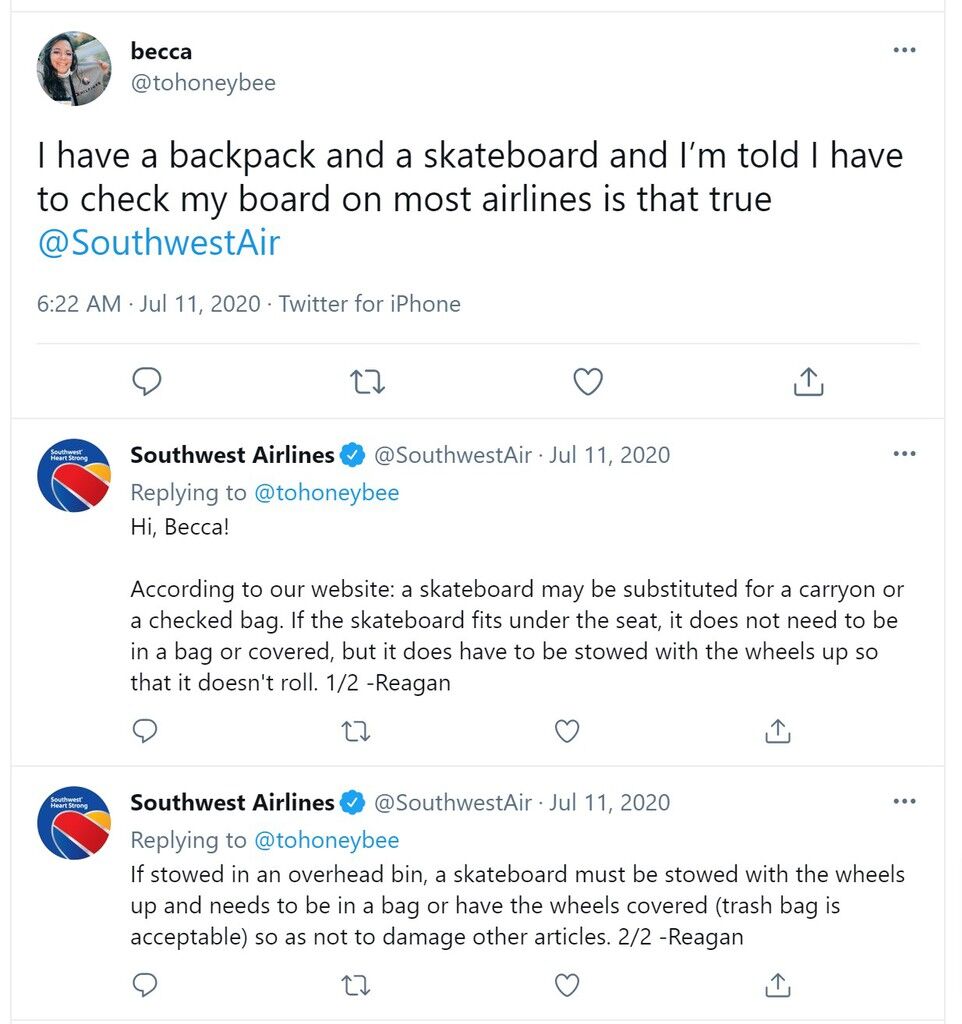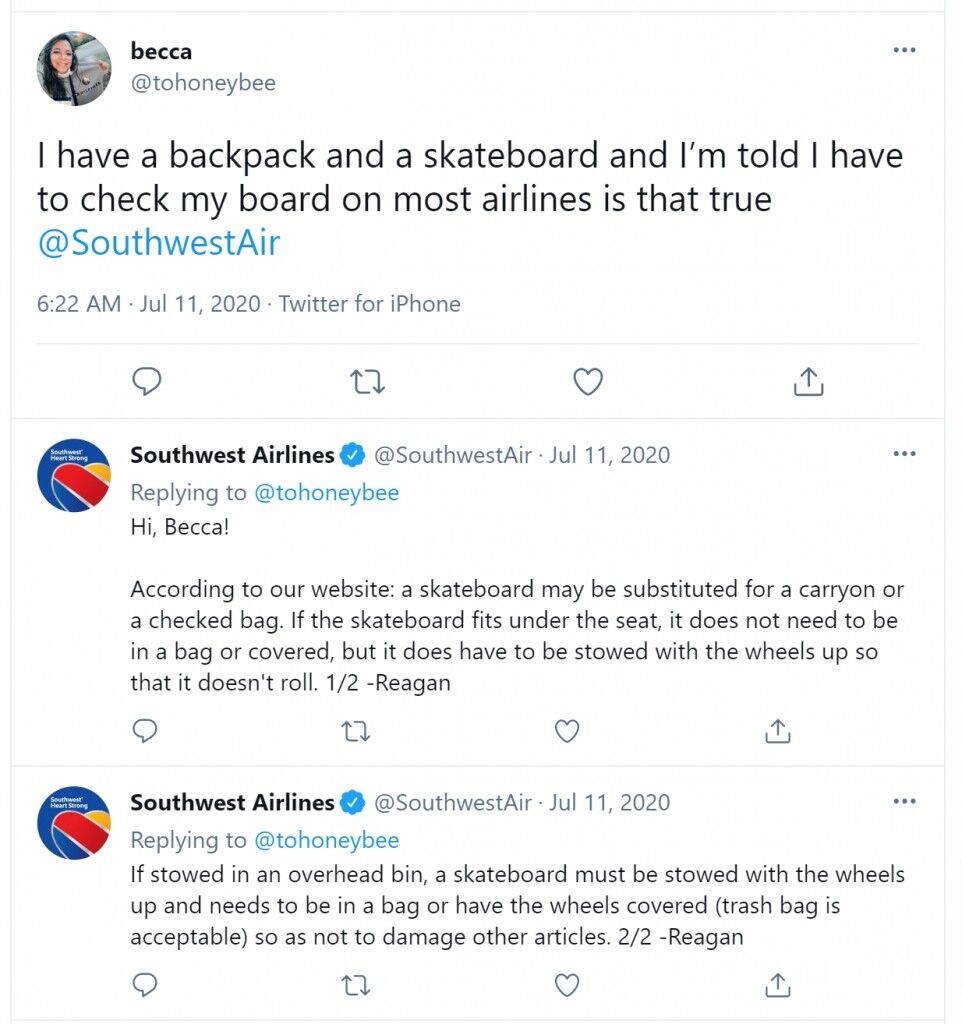 Spirit Airlines
This traveler was upset when Spirit charged him $50 extra because of a skateboard strapped to his bookbag.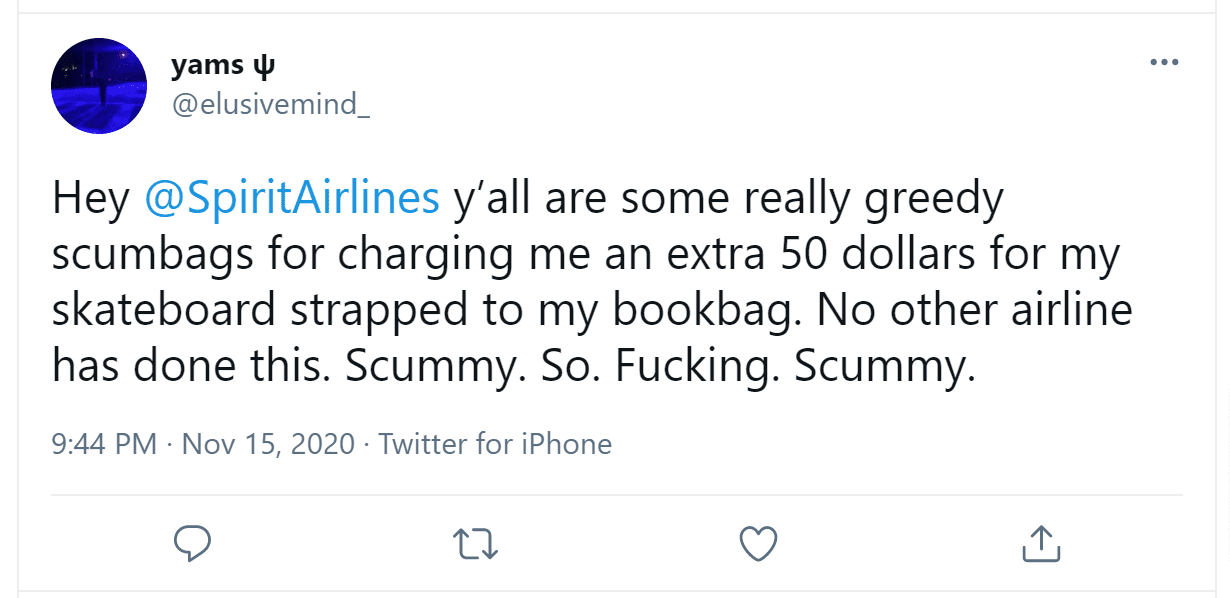 While full-service airlines like Delta can afford to be a little flexible with the rules low-cost airlines like Spirit rely on carry-on baggage fees to survive. That's their business model.
The cheaper your flight is the less likely your skateboard will be given any preferential treatment.
United Airlines
Judith asked United about a skateboard being allowed as one of her carry-on items.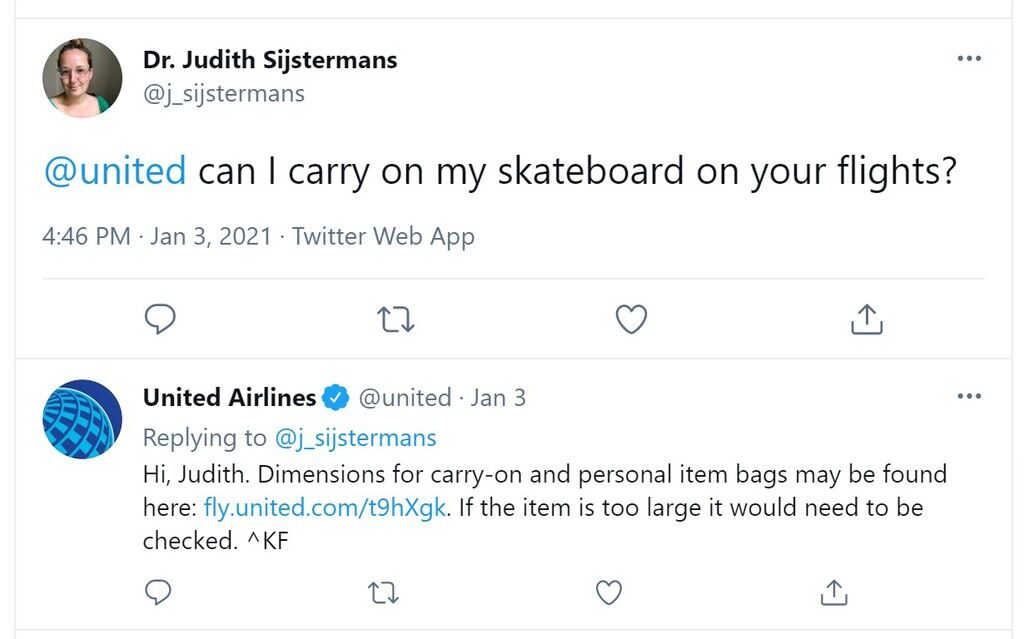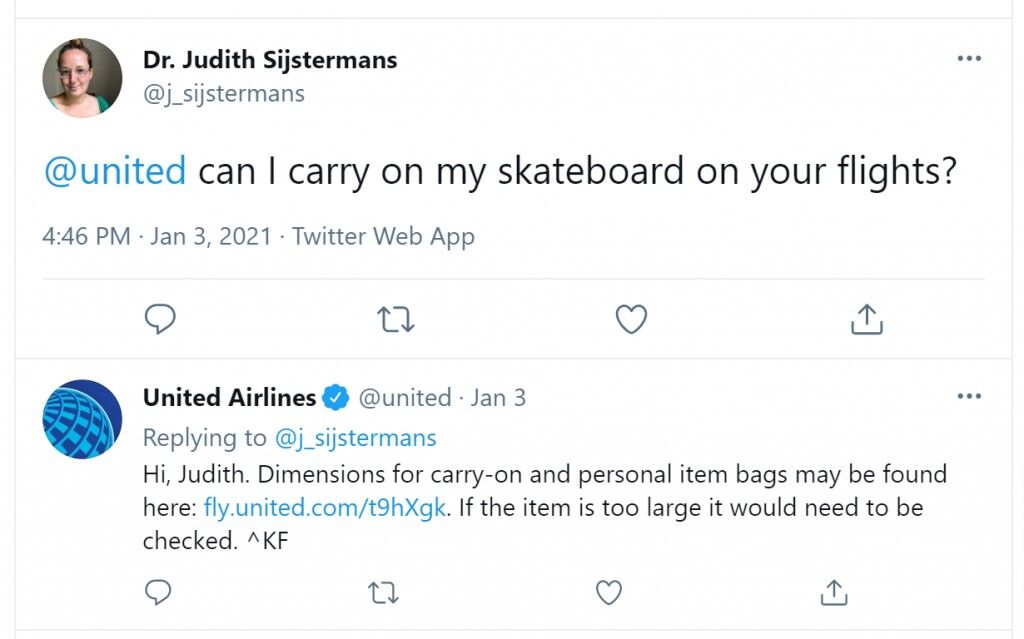 United will let you travel with your skateboard but only if it's small enough to qualify as hand luggage. Other wise you'll need to check it.
You Might Also Like