Last Updated on April 30, 2021
So you are taking a trip and want to bring your selfie stick.
Let's take a look at the rules.
TSA Selfie Stick Rules & Restrictions
The Transportation Security Administration is the team that screens your baggage at the airport and checks for any weapons.
The question is do they deem a selfie stick to be a potential weapon or an innocent photography accessory.
Here's what they say about selfie sticks on their website.

So yes, you can bring a selfie stick on a plane in either your carry on bags or checked bags.
But remember the particular TSA officer that you deal with at airport security has the final say about what is permitted on the plane or prohibited.
Selfies sticks are not prohibited in general. However, if your particular brand of selfie stick looks too effective for whacking people over the head with then it won't be allowed on board the cabin, In that case, you'd need to either check your luggage or surrender the selfie stick.
Still Unsure? Ask The TSA
You can ask the TSA directly about any particular item by writing to @AskTSA on Twitter.
This passenger asked the TSA about flying with a selfie stick and showed a photo.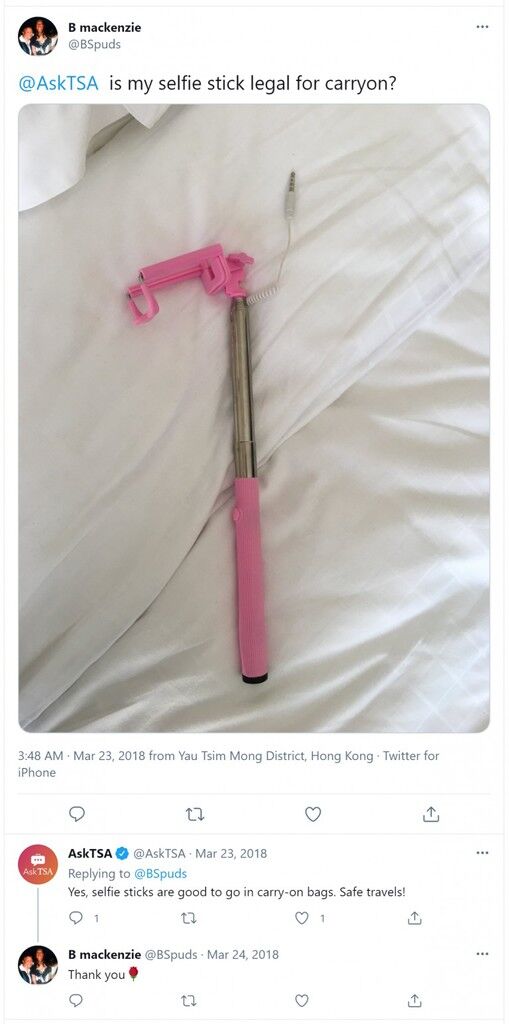 The TSA gave it the green light so if your selfie stick looks similar to that one you should be okay to pack it in your bag.
And this traveler also got his selfie stick checked out before taking it to the airport.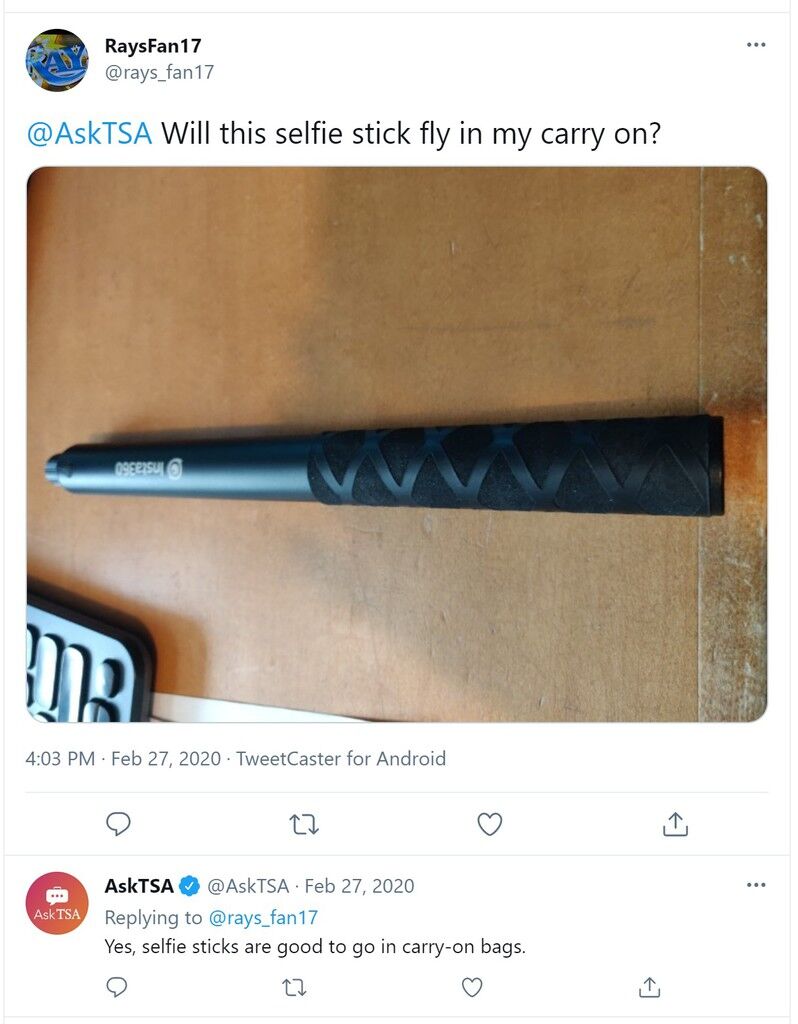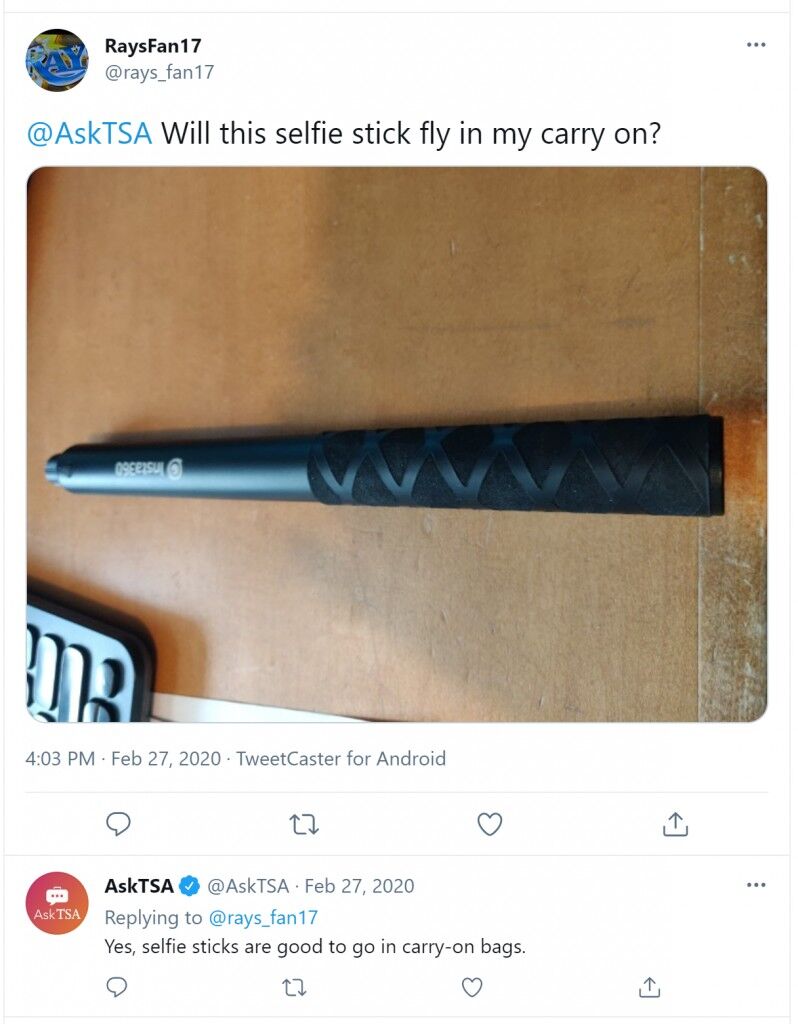 Chris asked about a 12-inch Smatree extendable selfie stick and tripod and the TSA said yes.
Henry also had a Smatree selfie stick for a GoPro camera. He mentioned that it was made of metal and quite sturdy.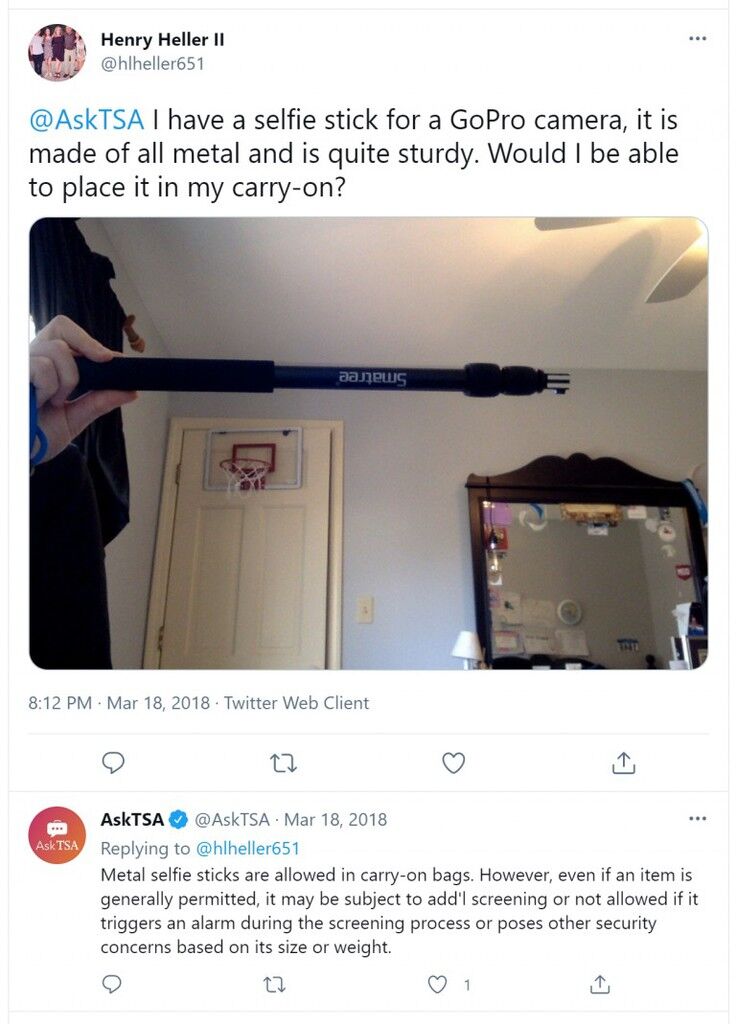 The TSA said "Metal selfie sticks are allowed in carry-on bags. However, even if an item is generally permitted, it may be subject to additional screening or not allowed if it trigger and alarm during the screening process or poses other security concerns based on its size or weight".
To put it another way, you can't bring a heavy weapon in your hand luggage and get away with it because it has a camera attachment.
The Verdict
Yes, you can bring a selfie stick on a plane in hand luggage or checked luggage, but this doesn't mean you can use it during the flight.
It should remain in your carry-on or personal item throughout the journey.