Last Updated on March 11, 2021
Multitools are handy things to have around. That is until, you are forced to voluntarily surrender it at the airport security checkpoint.
Every day the TSA confiscated multitools from fliers, but if you follow the rules and pack them correctly that doesn't have to be the case.
This post is all about flying with Leathermans, Gerbers, SOG, or whatever your preferred brand of tool is.
TSA Multitool Rules & Regulations
The Transportation Security Administration screen bags at the airport to check nothing dangerous gets on to airplanes.
Here's what they have to say about multitools on their website.


Bringing A Multitool In Hand Luggage
You can bring a multitool in carry on luggage if it does not have a knife or scissors greater than 4 inches.
You should also not bring any tools that are over 7 inches long, especially if they are heavy. This is because of the bludgeon rule. Anything you can hit fellow passengers over the head with is not permitted in the cabin.
Like this hammer multi tool.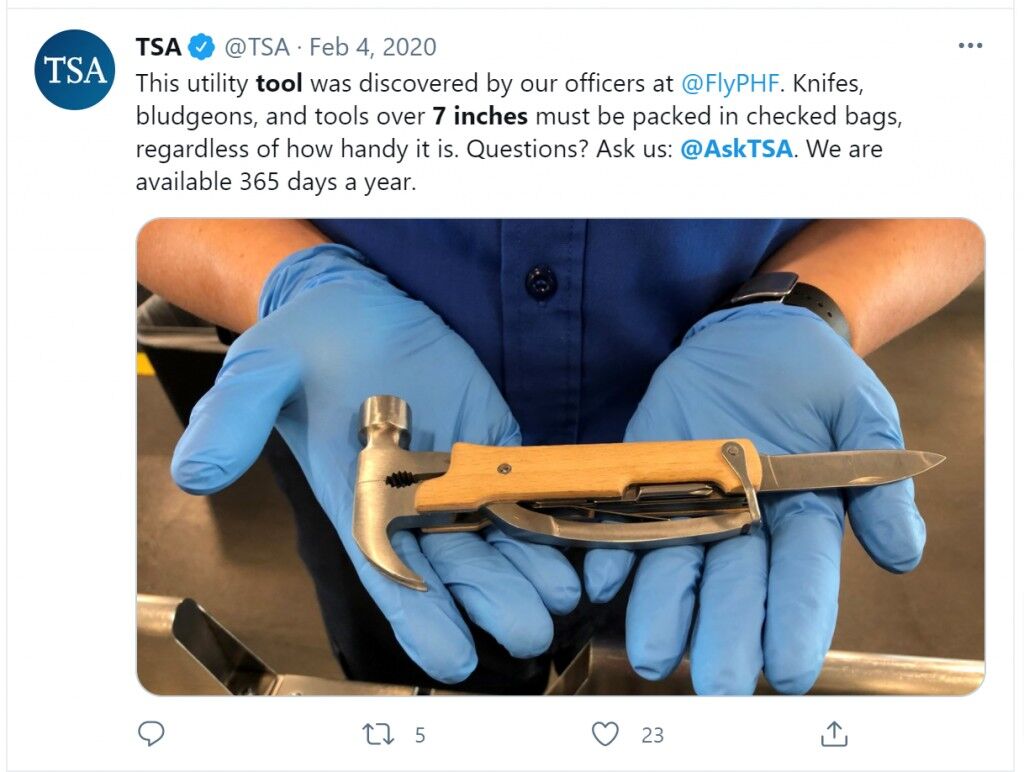 Because sharp objects are prohibited, brands like Leatherman are now developing TSA-approved multitools that don't have blades.
Like this TSA compliant PS style keychain.
Keep in mind that a brand can claim a multi tool is travel friendly, but the final decision is always taken by the TSA officer who inspects your luggage.
So many multitools and pocket knives are confiscated at airport security that they end up being auctioned off as job lots. Don't let your tool end up in a pile like these ones.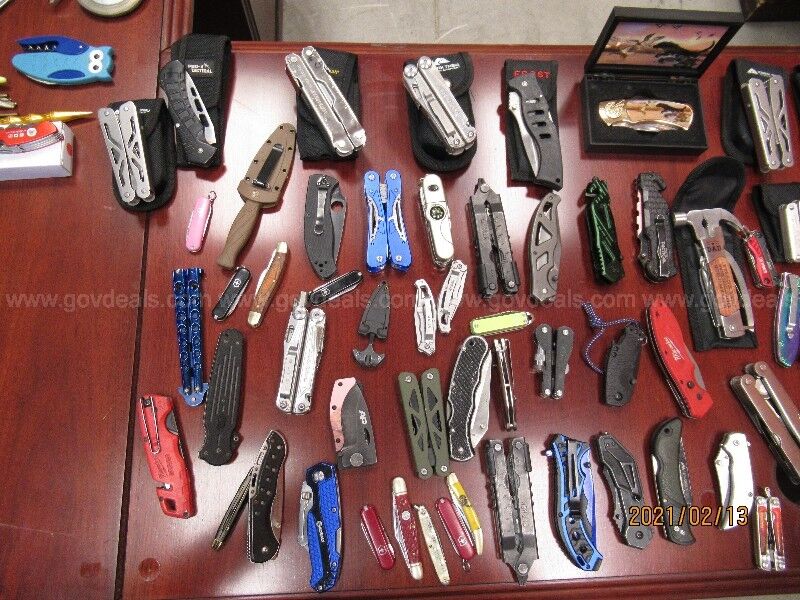 Bringing A Multi Tool In Hold Luggage
There are no restrictions against packing a multitool in checked luggage, even if it has a knife, but you should make sure your tool is well wrapped so that any TSA agent searching your bag won't be injured.
Given the cost of checked baggage, you might be better off shipping your multi-tool to your destination rather than paying for hold luggage.
How To Check With The TSA About Your Multitool
If you're still not sure whether you can bring your multitool through airport security or not you can use the @AskTSA service on Twitter or Facebook.
Simply take a photo of your tool and they'll let you know where you can pack it.
Alex asked about flying with a Leatherman tread.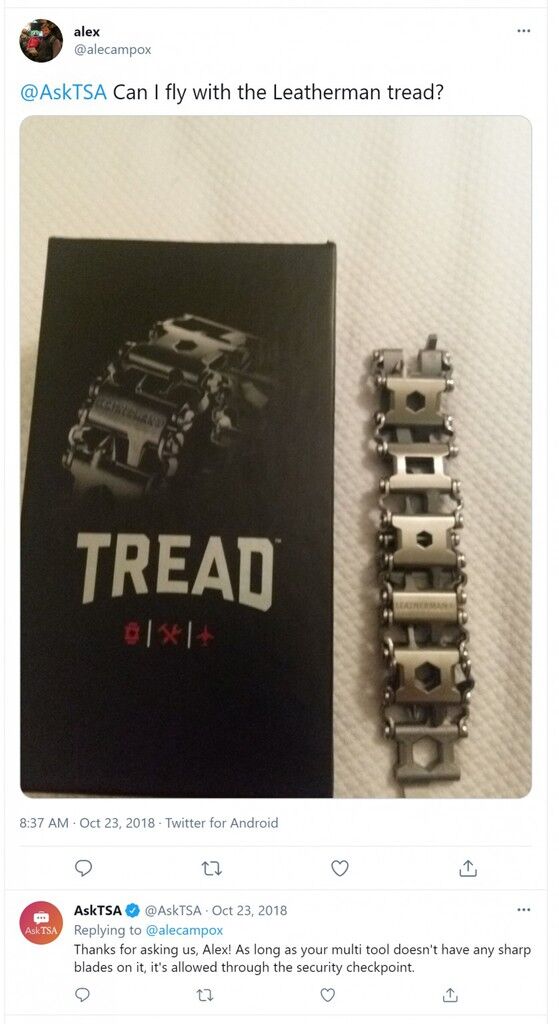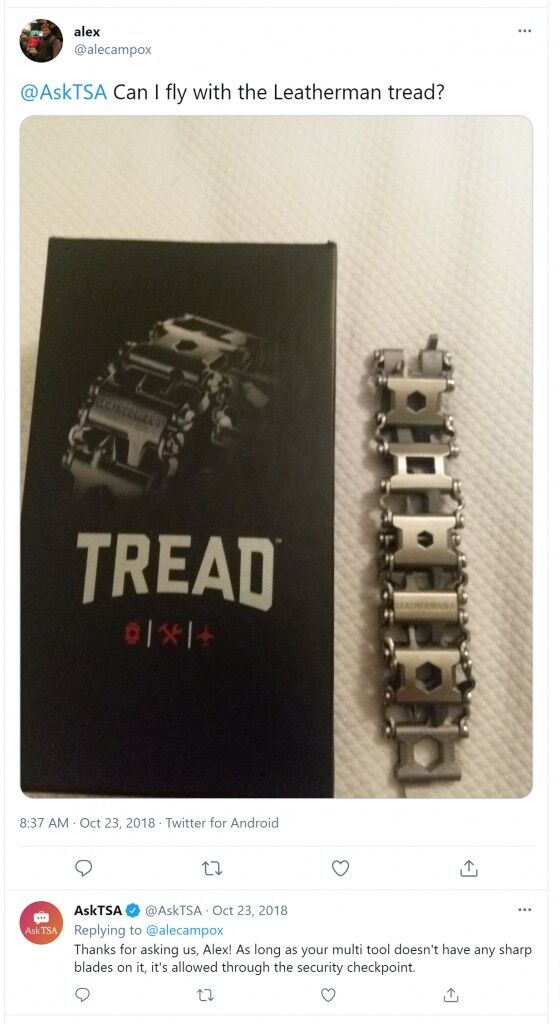 Angela was hoping that a leatherman with a knife less than 4 inches would be approved for carry-on bags.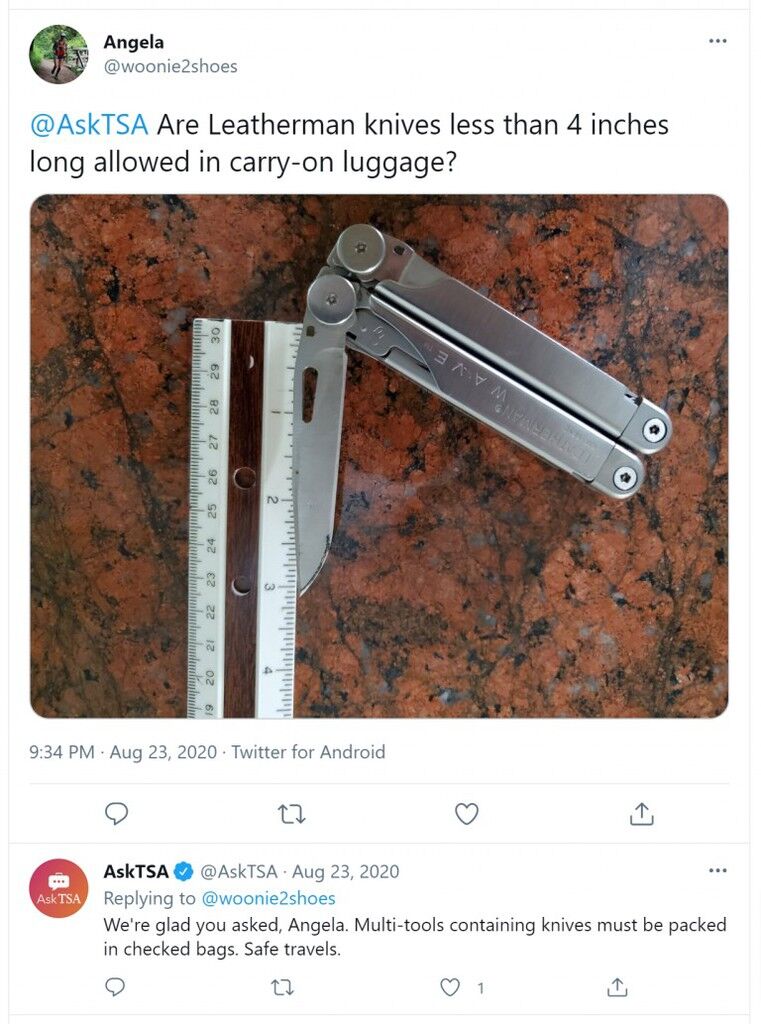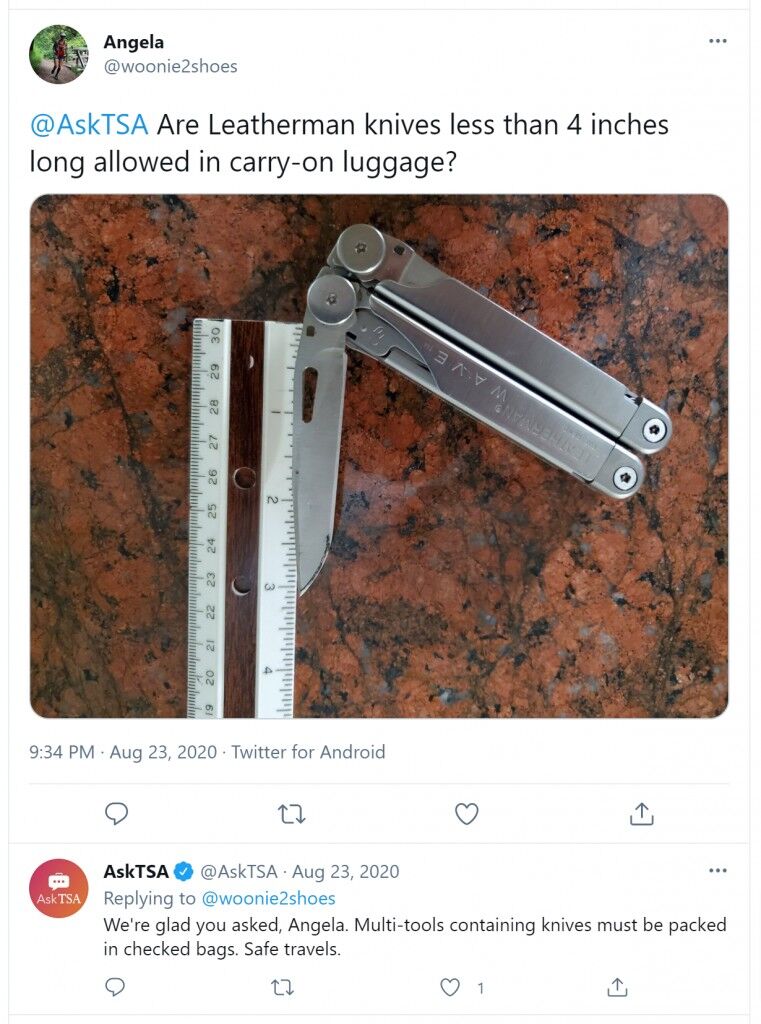 But the length of blade on your multi tool isn't important. It doesn't matter if it's only a small knife, blades of any length are prohibited from hand luggage.
Rob asked about his Leatherman Micra.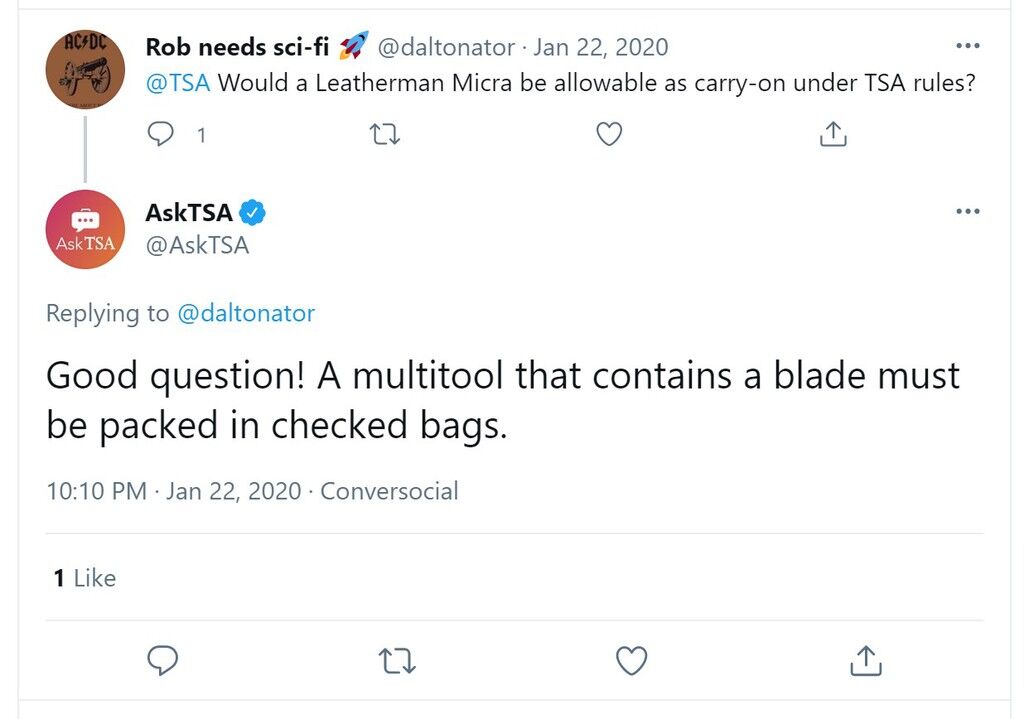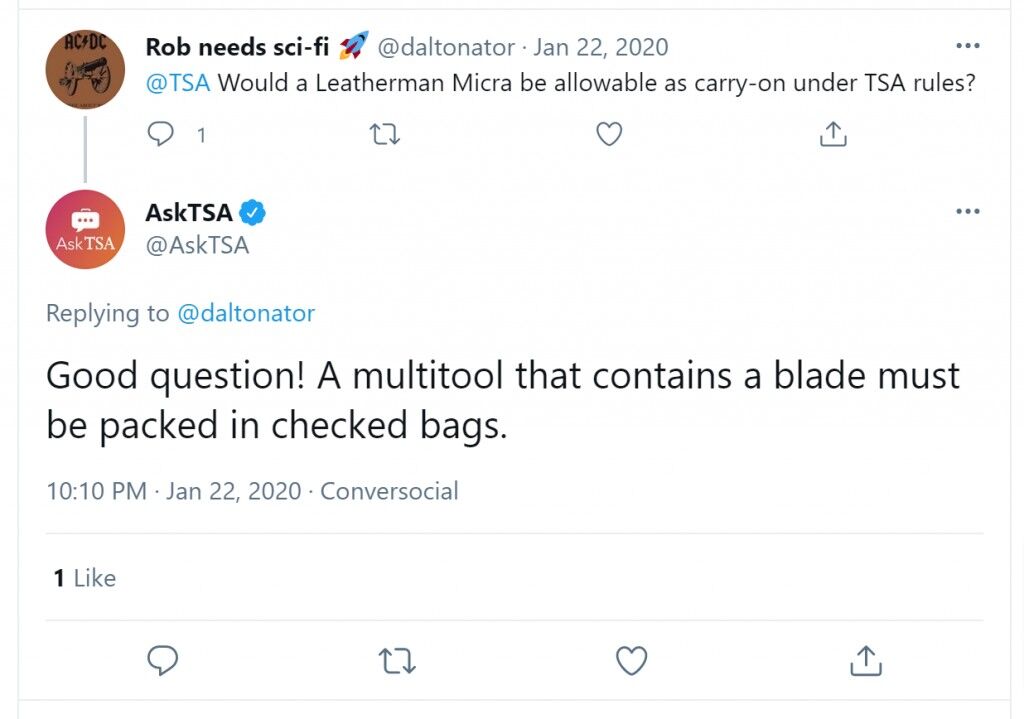 This passenger checked that their credit card tool could be carried onto the plane. Because there are no sharp or pointed edges it should be okay to fly with.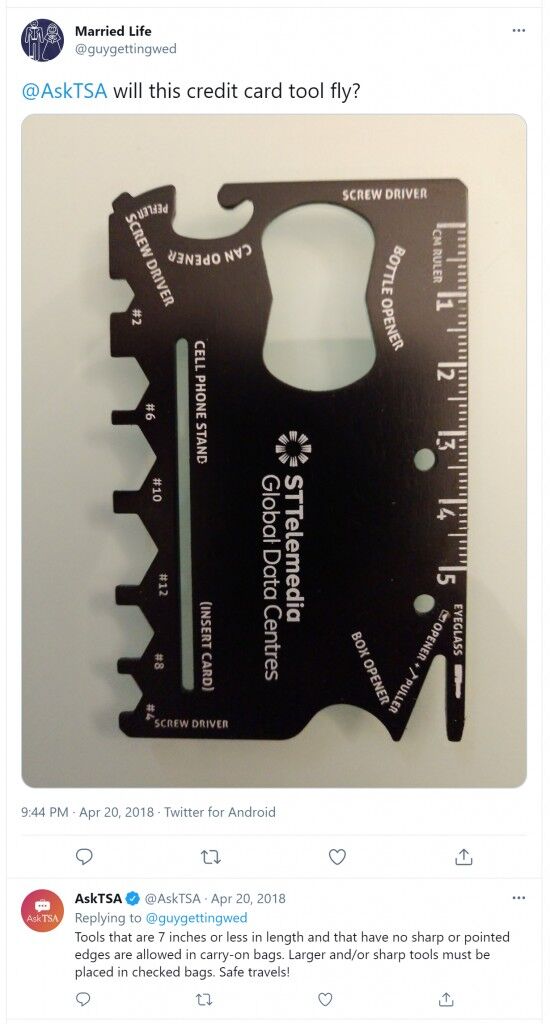 Alex asked about his Leatherman Brewzer keychain bottle opener.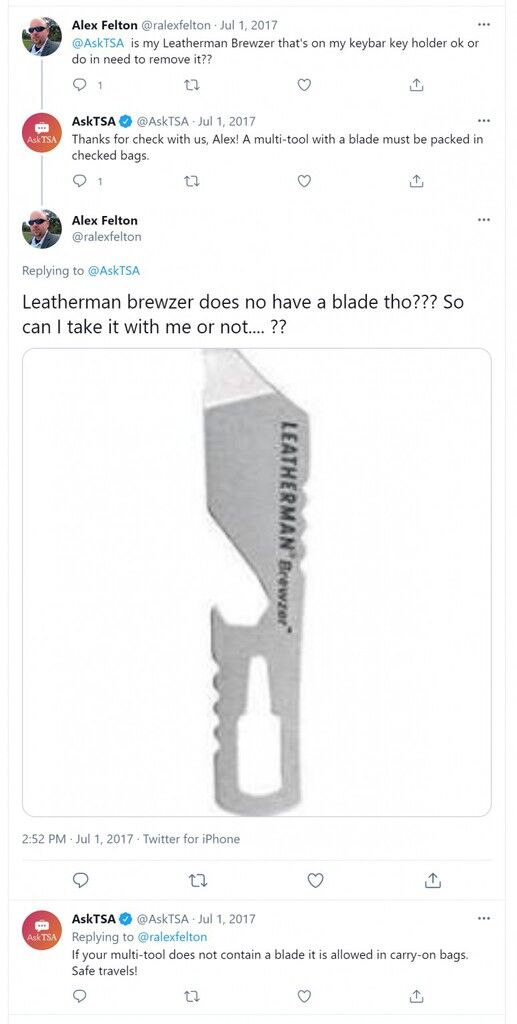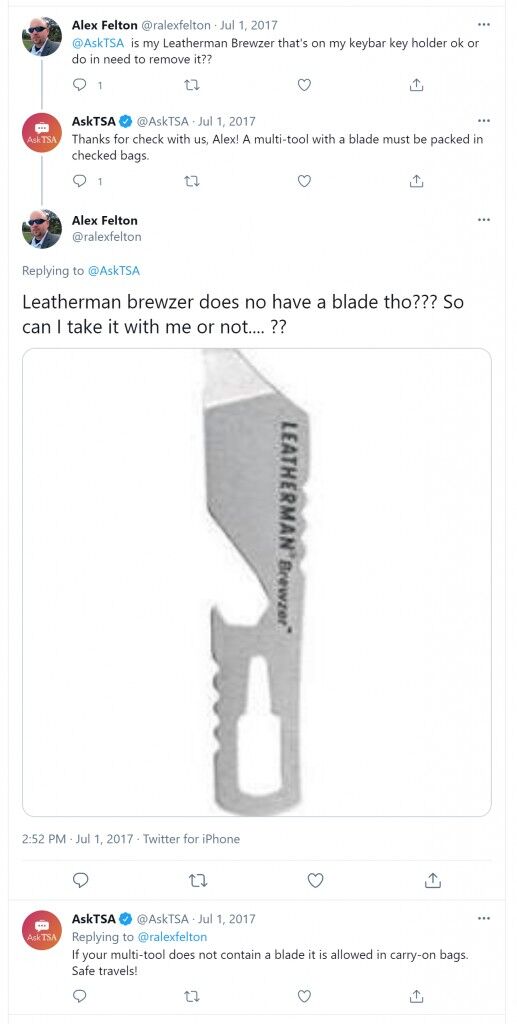 Dan checked that his Leatherman Piranha 2 wasn't going to be confiscated.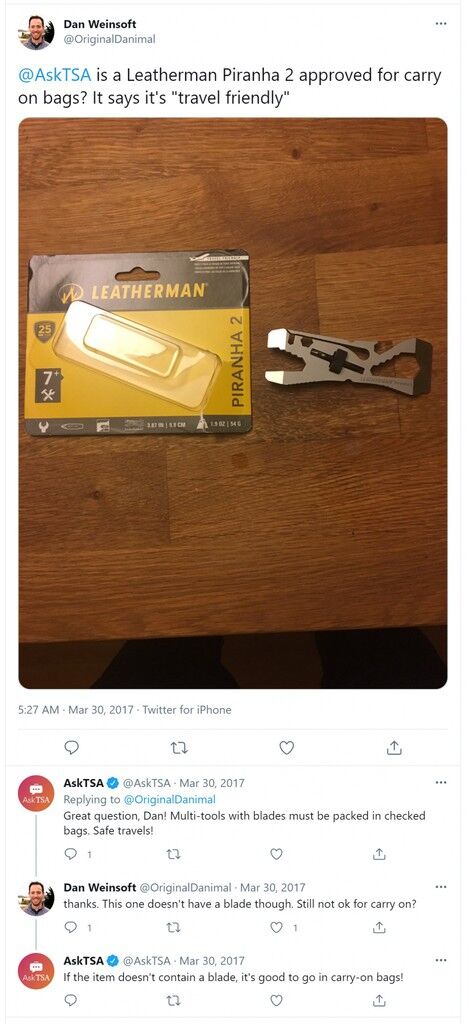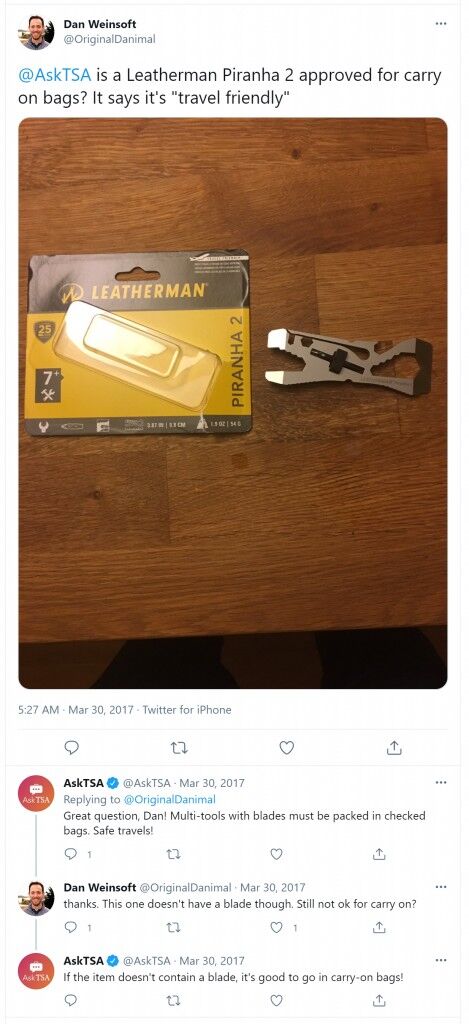 Since there is no blade the Pirhana 2 is a TSA compliant multi tool.
Tracy got the okay for her pocket bike multi tool.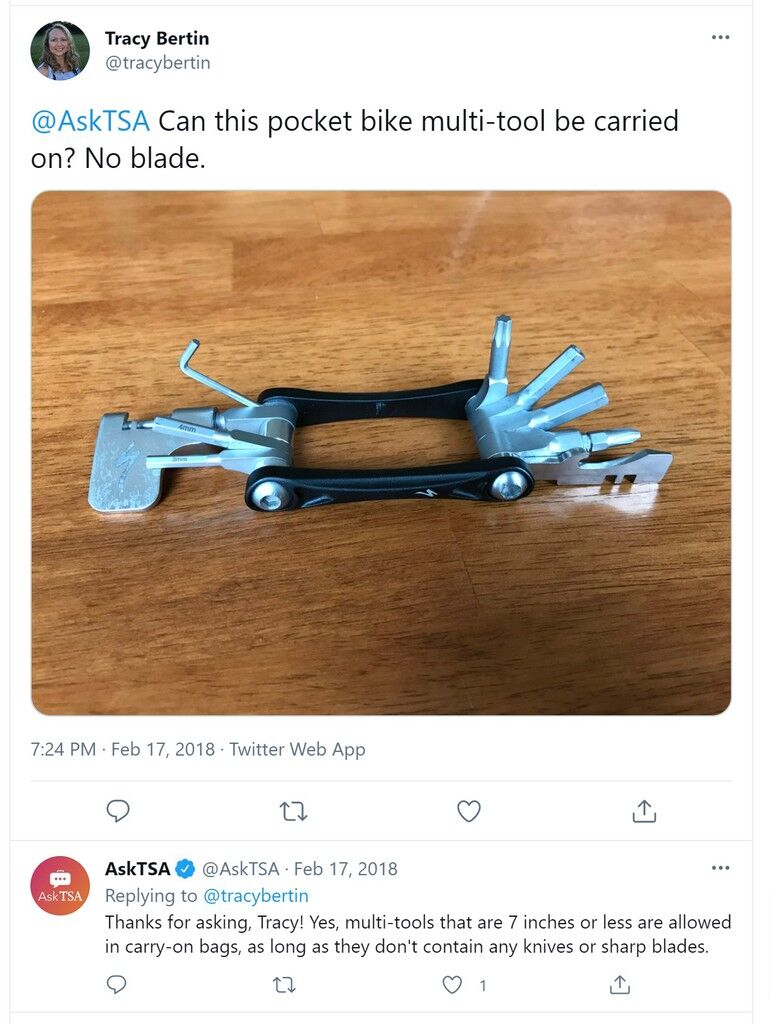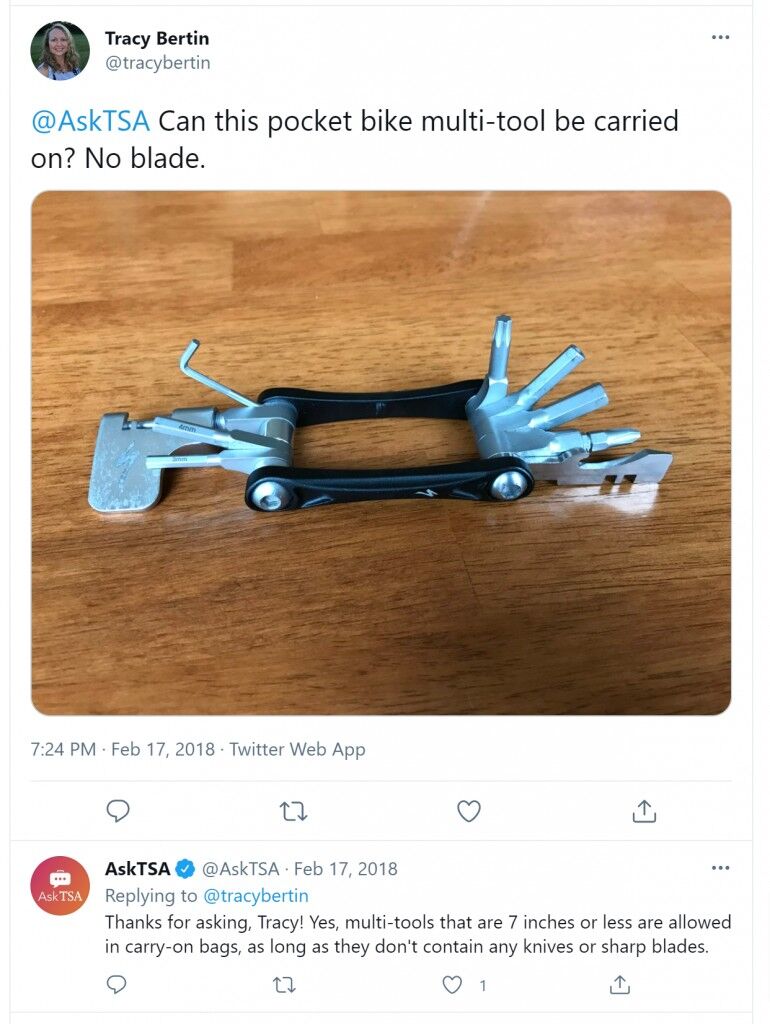 Shuraifa asked about a multi tool phone case.
Daniel asked about his Orbitkey: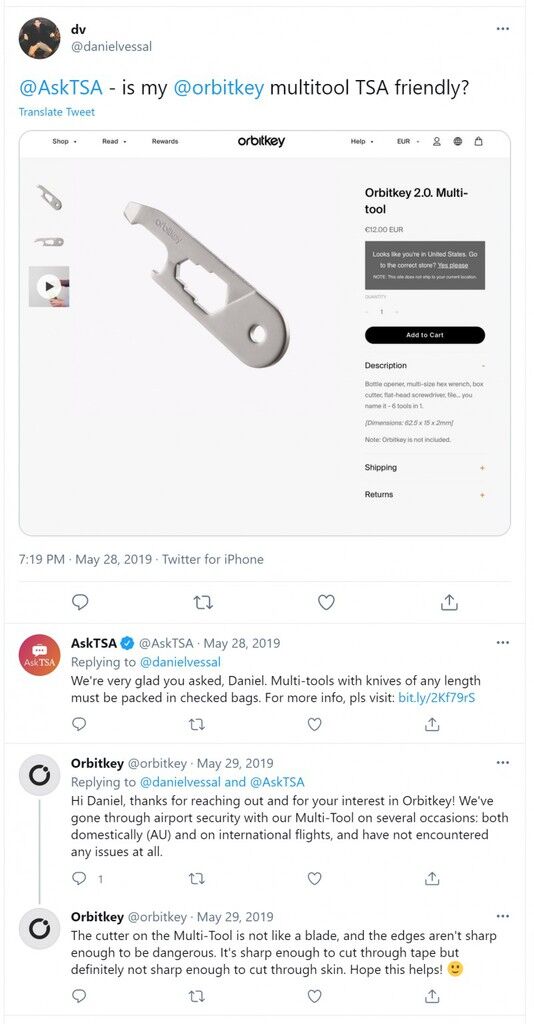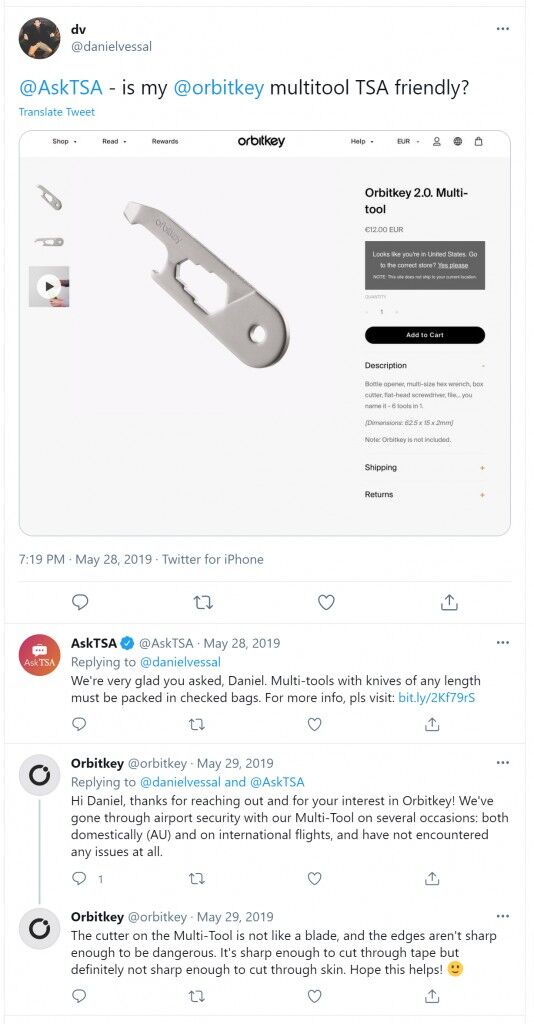 Jason confirmed that he could bring his Leatherman Wave in checked luggage.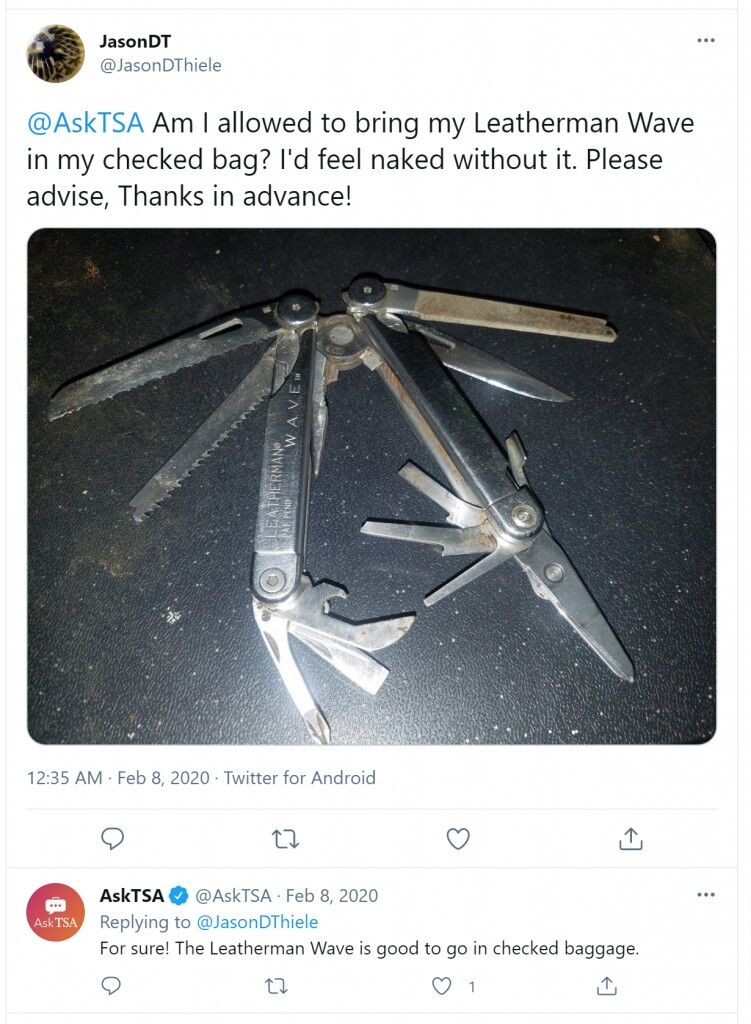 It doesn't matter if your multi tools are still unopened in their original packaging or not. If they have blades they can't be brought on to the plane.
This is simply for security reasons, you can't bring a knife on to a plane. The only blades that can be brought in hand luggage are disposable razor blades.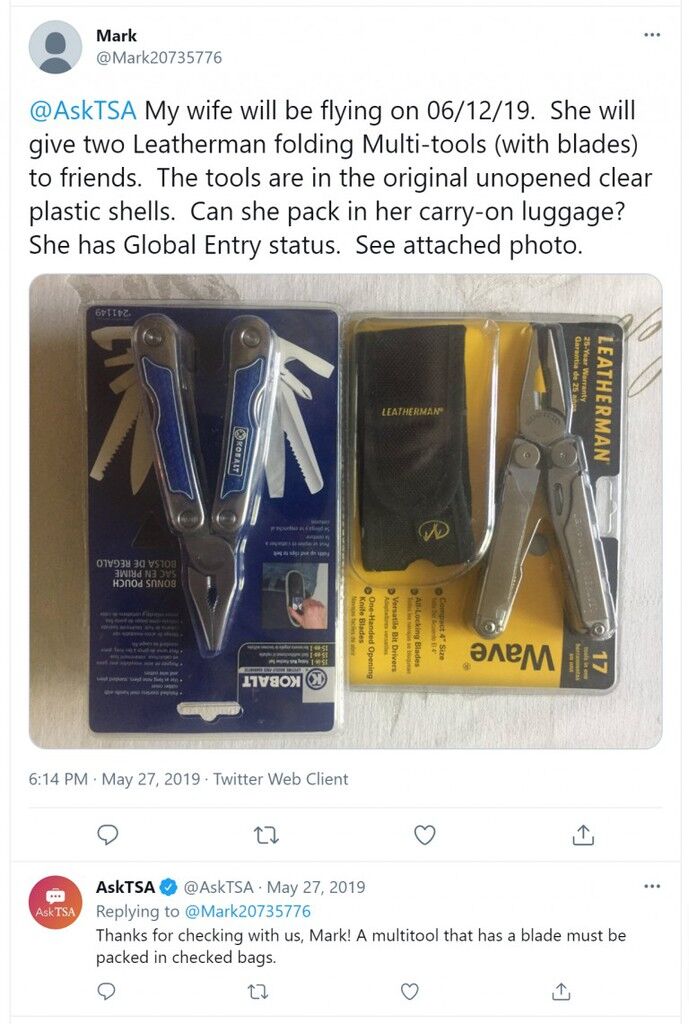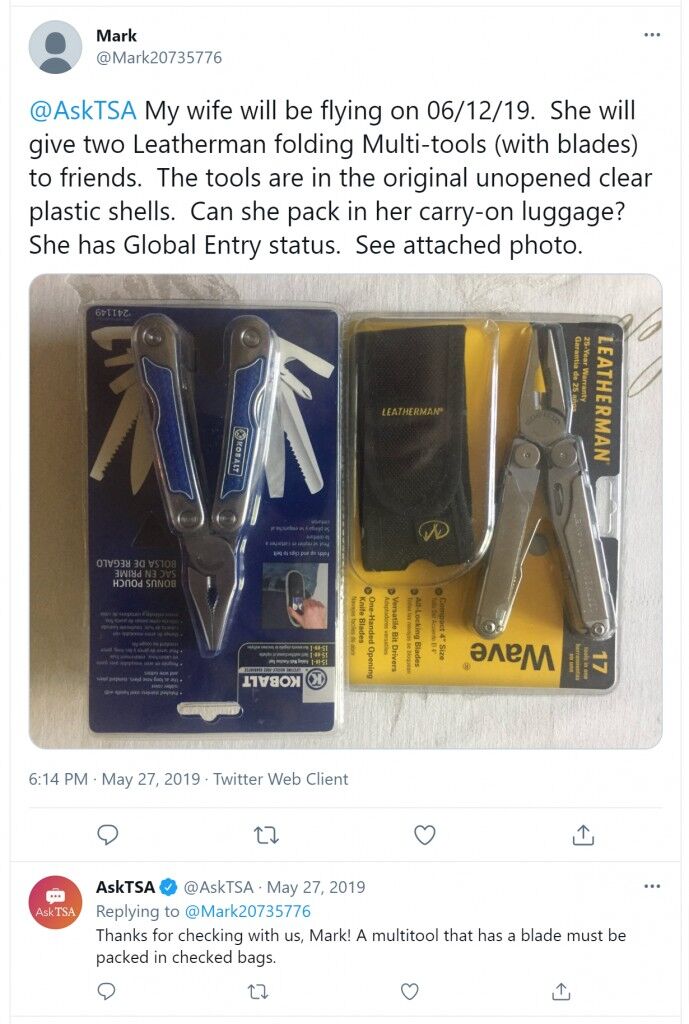 Chris checked if his Leatherman style PS by Gerber would be permitted on a plane.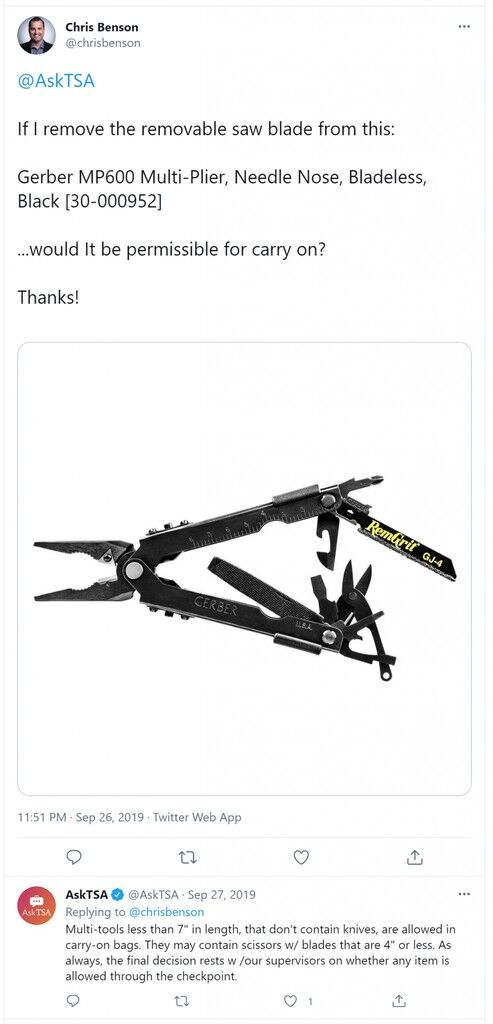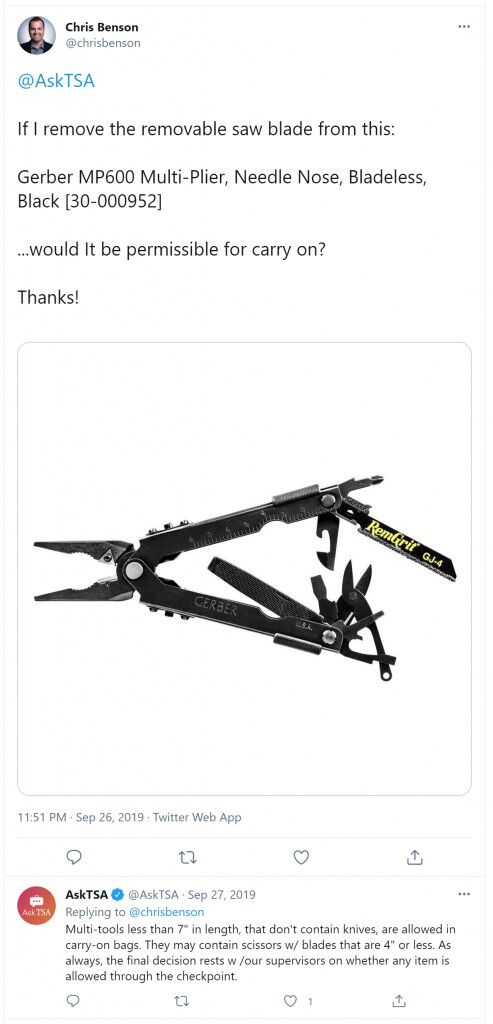 It doesn't matter what the brand of multi
The Bottom Line
If your multitool has a knife or scissors longer than 4 inches you can't bring it on a plane in your carry-on bag.
Look for a travel-friendly multi tools that don't have knives.
Don't bring any tools longer than 7 inches in hand luggage.
You can, however, freely pack any multi-tool in checked bags.
People Also Ask