Last Updated on October 30, 2021
If you are intending to travel with a plant as a gift or a souvenir then consider a succulent.
Flying with a small cactus is a lot easier than flying with a large potted plant.
Let's have a look at how to bring a cactus on a plane.
TSA Cacti & Succulents Rules
The Transportation Security Administration manages the screening process at airport security.
They have this rule about which would cover succulents and cacti.


You can pack succulents in both carry-on bags and checked bags.
Crucially because many succulents are smaller you don't need to worry so much about carry-on size limits that airlines have.
The best place to pack a cactus is in your personal item bag. That's the bag that you bring and put under the seat on in front of you.
Bags that are stored in overhead bins can sometimes be squashed and you don't want your cacti being damaged.
Flying With A Cactus Internationally
If you are flying internationally you don't only need to consider airport security rules.
Many countries require a permit to bring soil, plants, and seeds across borders.
Check with your destination country to make sure you are following the rules. You may need to declare your succulents when you arrive at your destination.
To bring succulents into the United States the relevant agency would be the Department of Agriculture – Animal and Plant Health Inspection Service (APHIS).
Other countries will have equivalent departments.
Still Unsure? Ask The TSA
You can ask the TSA on Twitter if you have any packing queries.
Kink asked about packing cacti in carry-on luggage: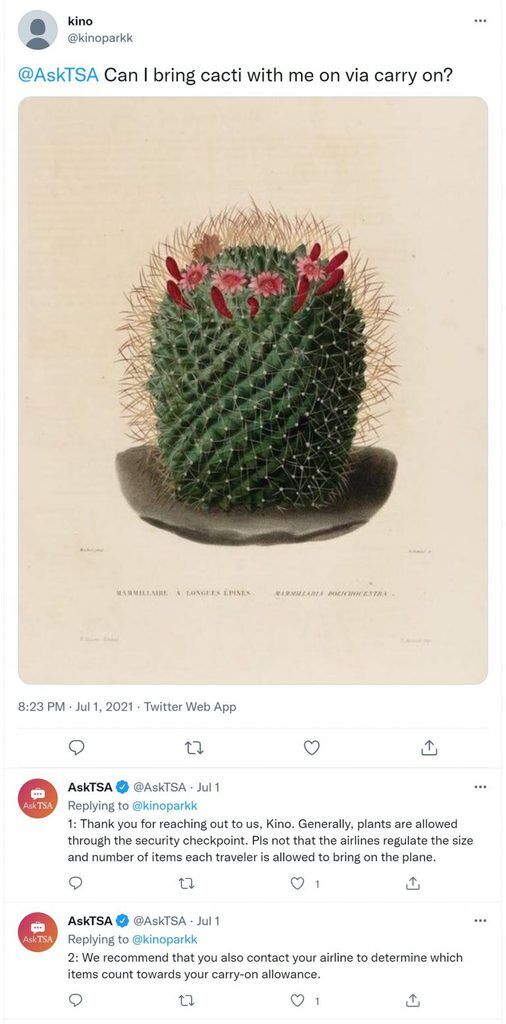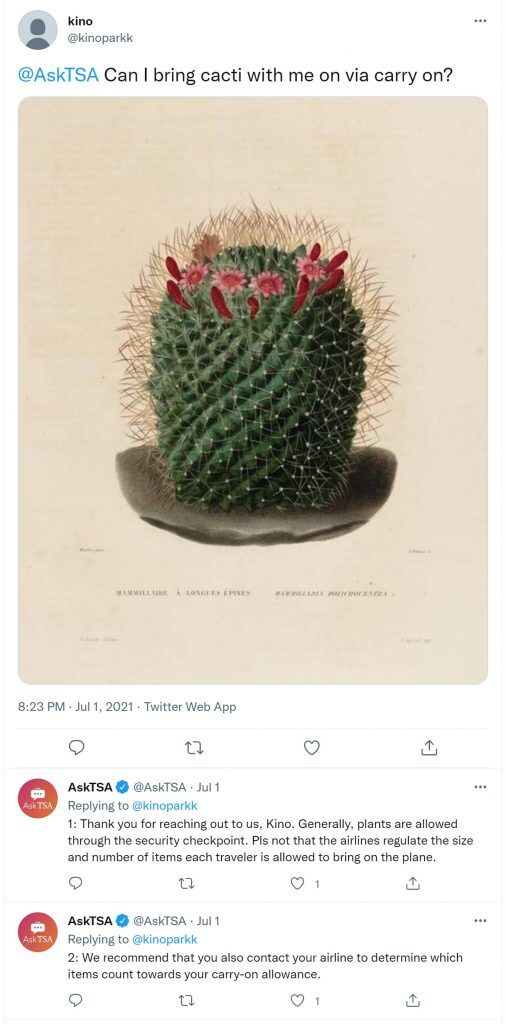 The TSA said that cacti are permitted to be brought through airport security, but they recommend that you contact your airline.
Emily asked if she could bring her Aloe plant on the plane.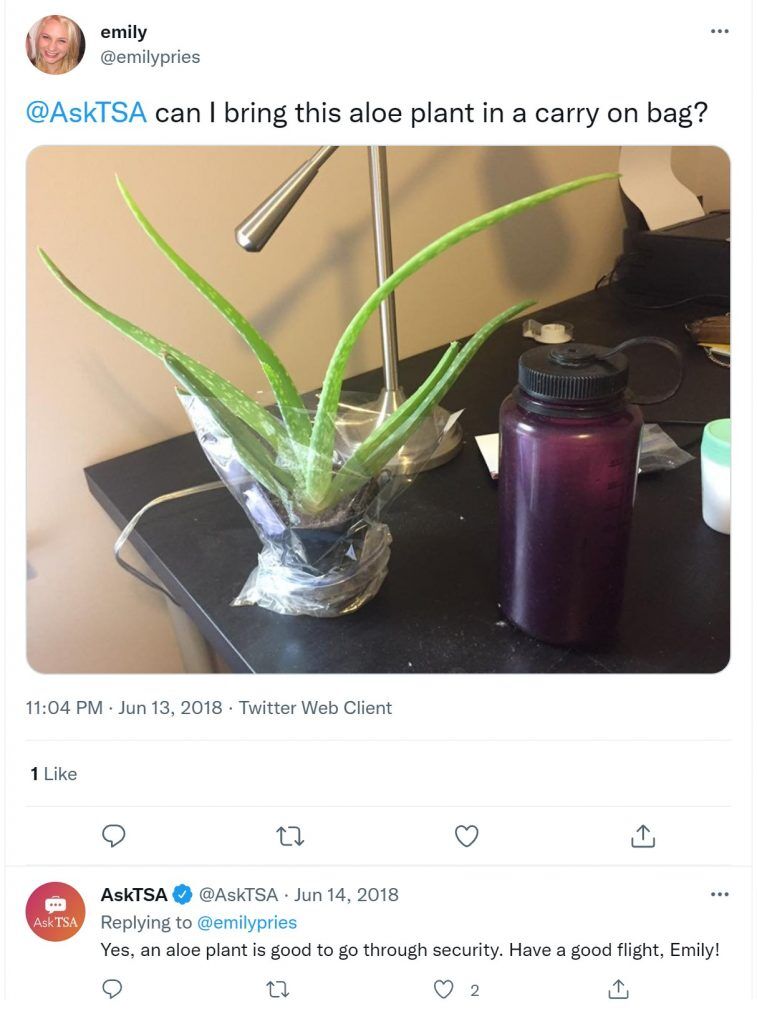 MacKenzie's sister was flying with a baby succulent.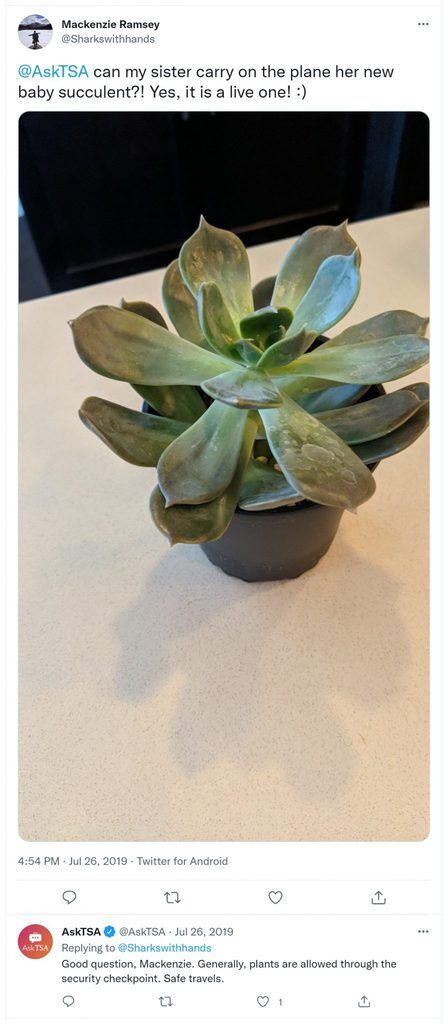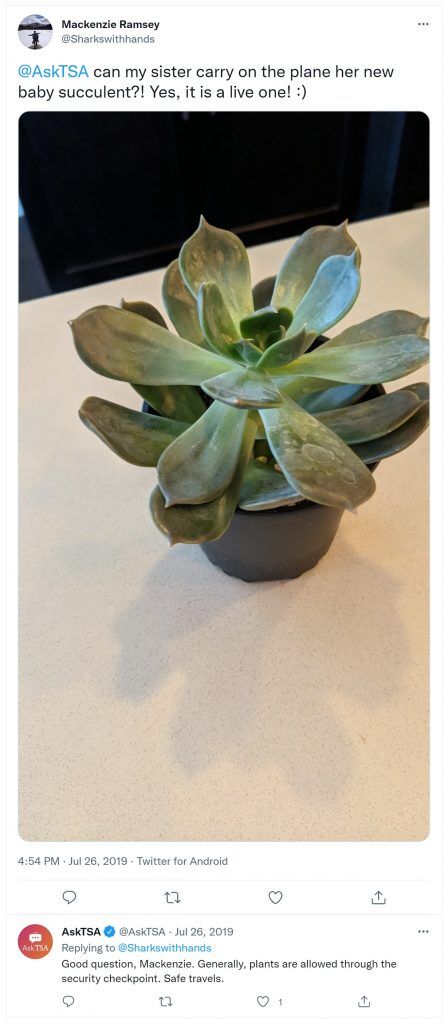 The TSA said it would be okay, succulents are allowed through the security checkpoint.
The Verdict
You can bring succulents like cacti on the plane.
You might find that they are easier to pack in your carry-on luggage than other plants.
Your personal item is the best place to pack a small cactus.
Remember to check the rules about importing plants if you are traveling across borders.
You Might Also Like