Last Updated on February 15, 2022
Backpacks, of course, come in different sizes. There are small backpacks, and there are large hiking backpacks.
Whether you can bring your backpack with Spirit depends if it's under the maximum size permitted.
Be careful here, Spirit is very strict about carry-on bags that's how they make their profits.
This post is all about the size of backpack you can bring on a Spirit Flight.
Does A Backpack Count As A Personal Item On Spirit?
If your backpack is under 18 x 14 x 8 inches it will count as a personal item on Spirit.
You can bring a small backpack for free and you won't need to pay extra for a carry-on bag. A larger backpack doesn't count as your one personal item and Spirit will charge you additional fees.
It can be a challenge for some to travel light enough to make this work. But a Spirit personal item backpack isn't tiny.
A backpack suitable for the Spirit bare fare could be up to 33 liters. In comparison, a regular carry-on that you'd take on a legacy airline would be 45 liters maximum. Unless you are a serial over-packer then I'm willing to bet you can make it work with a few tips on packing light.
The fact that backpacks don't have protruding wheels or rigid handles makes them a great choice when flying on a Spirit Bare Fare. You can make the most out of the free baggage allowance.
Keep in mind that you are only permitted one personal item. You need to pack your purse, handbag, briefcase, or laptop bag inside your one permitted bag.
Using Medium Sized Backpacks As A Spirit Airlines Carry-On
If your backpack is larger than 18 x 14 x 8 but under 22 x 18 x 10 inches you can still bring it as cabin luggage but you will need to pay the Spirit carry-on bag price.
Book early to get a cheaper price and don't risk it if your bag is a little too big.
Bringing Very Large Backpacks With Spirit Airlines
Lastly, if your backpack is larger than 22 x 18 x 10 you can bring it as a checked bag but the sum of the length + width + height must not exceed 62 linear inches including handles.
There is also a 40 lbs weight limit. There will be fees involved in bringing checked luggage too and the baggage charges for going over the checked bag limit are substantial.
Some hiking backpacks are taller than 22 inches making them unsuitable as a Spirit carry-on or personal item. In this case, they must be checked.
How To Measure Your Spirit Backpack Candidate Without A Tape Measure
What if you are about to check-in online now for your Spirit flight and don't have a tape measure handy?
Well… you probably have a measuring tape in your wallet right now.
A dollar is 6.14 inches wide.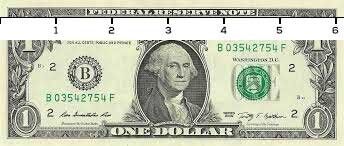 And it's 2.61 inches tall.
So it's easy to measure your backpack to see if it's under the maximum Spirit personal item dimensions.
And if your bag is under the backpack size for Spirit Airlines you get to keep hold of those dollars!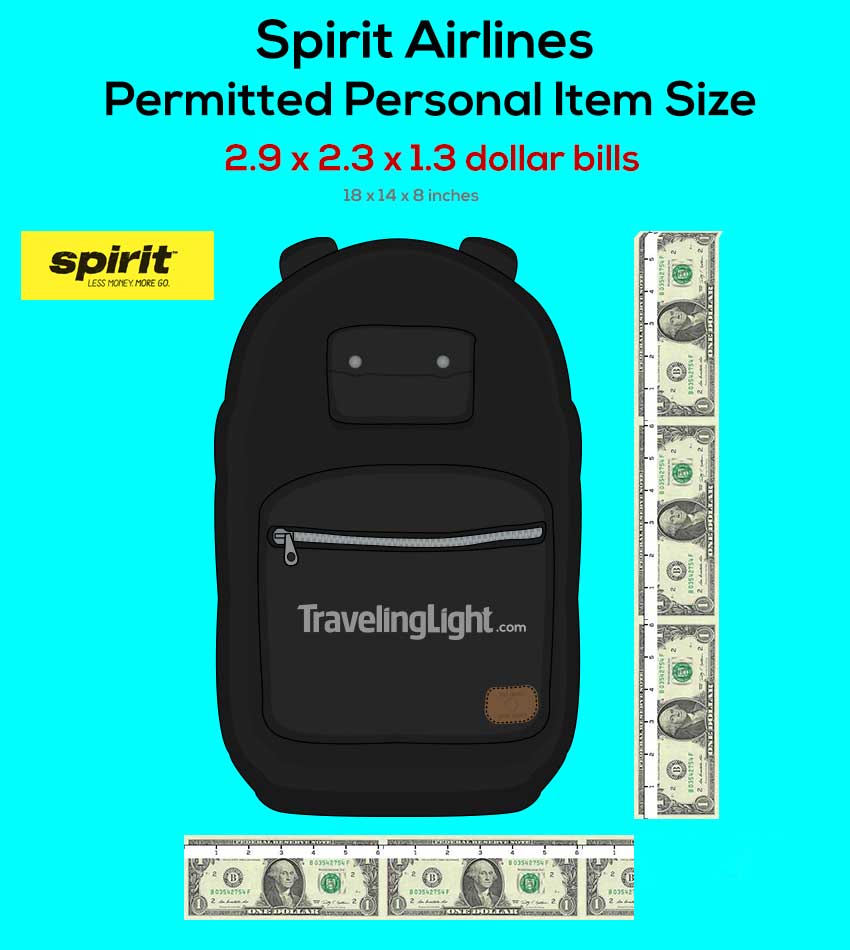 18 x 14 x 8 Backpacks To Use As A Spirit Airlines Personal Item
If you don't have a suitable bag you might want to buy a backpack that's the right size for Spirit.
Ideally, you'll want to use a backpack that is close to the maximum but not over the limits.
We included three good backpack options for Spirit on our post about 18 x 14 x 8 inch bags.
Here they are again:
The Verdict
There are many 18″ x 14″ x 8″ and under backpacks that are suitable for Spirit Airlines.
There is no Spirit backpack policy distinct from their general baggage policies.
So you can bring a backpack on Spirit for free if it fits! It's as simple as that!
People Also Ask