Last Updated on February 11, 2021
United Airlines have a pretty tightfisted idea of what size a personal item is.
Their personal item size limits are smaller than most other airlines in the states.
Here is the relevant quote from their website:
United Airlines Personal Item Size
Your personal item should fit underneath the seat in front of you. The maximum dimensions for your personal item are 9 inches x 10 inches x 17 inches (22 centimeters x 25 centimeters x 43 centimeters).

United Airlines
The capacity of this allowance is only estimated to be about 22 liters maximum. For comparison, full-size carry on luggage (22 inches x 14 inches x 9 inches) is usually around 40 liters.
So flying with 9 x 10 x 17 personal items is a real packing challenge because you get about half as much space as you usually get with carry on baggage.
Other airlines are more generous and allow personal items that are about 29 liters, despite flying the same aircraft with the same space under seats… go figure!
It seems like United choose to put the squeeze on passengers to "encourage" them to upgrade to more expensive fares.
The most frustrating thing is that it's very difficult to find bags that are shaped near 9 x 10 x 17 inches. These are boxy dimensions and luggage manufacturers tend to avoid this shape for reasons of practicality.
But if you are flying basic economy without a carry-on bag then it's vitally important to find a personal item bag that is as close as possible to these measurements. After all, you need all the space you can get!
That's why we've searched around the net to find the bags that are close to those permitted dimensions.
Hopefully, this post will give you some decent options if you are flying with United.
Our Top Pick 9x10x17 Bag
Weight: 3 lbs
Dimensions: 17 x 10 x 8 inches
Boarding Blue makes this bag specifically to be used as a United personal item.
They've tried to recreate the experience of a carry-on rollaboard but just in a smaller format.
It's not perfect but for the most part they have succeeded.
The main problem with this bag is that it won't stand upright on its own if you let go of the handle.
Frustrating yes, but then it's also frustrating to get caught at the gate and be forced to pay for checked luggage. If you can pack light then this little 2-wheeled roller can help you avoid checking fees when flying United basic economy.
Favor has made a great video demonstrating the Boarding Blue in action including placing it inside the United sizer.
But do you really need wheels for such a small bag?
9 Inches x 10 Inches x 17 Inches Duffel Bags
16 Inch Aerolite Carry On
Weight: 1.1 lbs
Dimensions: 16 x 10 x 8 inches
Material: Ripstop Nylon
The best shape for a 9 x 10 x 17 bag is duffel bag shape i.e. somewhat rectangular.
If you are fit and healthy you don't really need wheels on a bag this size. The wheels and internal framing will simply take up space that could have been used for socks!
The Aerolite is 16 x 10 x 8 inches so it easily fits in the underseat area and will fit in the United sizer.
But a word of caution: this carry on bag isn't fancy.
There are no partitions in the main compartment, that's fine for packing clothes but if you have any breakables like a camera or a laptop make sure you use a laptop sleeve or some other form of padding.
It has one pocket on the outside that's handy for passports or documents.
One the one hand it's great that the ripstop nylon material is so lightweight. On the other hand you get the feeling that this bag could rip if overstuffed.
The Aerolite is a good cheap option to throw some clothes into but it won't last as long and it has fewer features compared to some of the other products on this page.
Travelpro Crew Versapack
Weight: 2.6 lbs
Dimensions: 17 x 11 x 9 inches
Material: Ballistic Nylon
Colors: Plum, Grey, Blue, Black
The listed size for the Crew Versapack is 17 x 11 x 9 inches. If this were true it would make it 1 inch too high to qualify as a United personal item.
In actual use it fits the United sizer perfectly.
Travelpro make great rolling suitcases and this tote is made to the high standards of craftsmanship.
While it's a similar size and shape to the Aerolite is has more structure making it easier to pack. It also seems to be more durable and should last a lot longer.
Like the Aerolite there is a large front pocket but there are also organizing features inside that pocket.
Whereas the Aerolite strap is sewn on the Travelpro has a removable strap.
For more opinion check Megan's thoughts on her Travelpro Crew tote:
Travelpro Maxlite 5
True Dimensions: 16 x 11 x 8 inches
Weight: 1.6 lbs
Colors: Green, Black, Rose, Blue
Also from Travelpro consider the Maxlite 5.
According to the manufacturer, this duffel measures 18 x 11 x 8 inches. I'm not sure what they are smoking over at Travelpro because when you measure it with a tape measure it's less than 16 inches wide.
That's good news for us though since it means we are less likely to get in trouble with the United Airlines carry on luggage enforcers.
Travelers are using this as a personal item with United, it's a well made bag and should last for years.
If you want a detailed review of the Maxlite 5 tote Chris has the info you need.
DALIX 17″ Duffle Bag
Dimensions: 17 x 10 x 9 inches
Material: Polyester
Weight: 1.4 lbs
If you just want a cheap bag that's the right size to squeeze under the seat then the Dalix duffel bag will sort you out.
You might not win any fashion awards with this very basic hold-all but you'll be able to pack the maximum amount of clothes a basic economy ticket permits.
Boarding Blue Duffel
As well as our favorite wheeled Boarding Blue also make a non-wheeled version.
9 Inches x 10 Inches x 17 Inches Backpacks
Herschel Supply Company Heritage
Dimensions: 16.25 x 10.5 x 4.5 inches
I mainly wanted to include an example of a backpack to show why backpacks are not good personal items for United.
If you are familiar with the brand you'll know that Hershel backpacks are not huge backpacks.
The height and width is too large while the depth is too small.
Pay close attention to that 4.5 inch depth. That's normal for small backpacks.
Almost every time you find a backpack that is 17 x 10 you lose a lot of capacity from the depth. The real capacity of the Herschel backpack is only about 12 liters.
Tom Bihn Synapse 19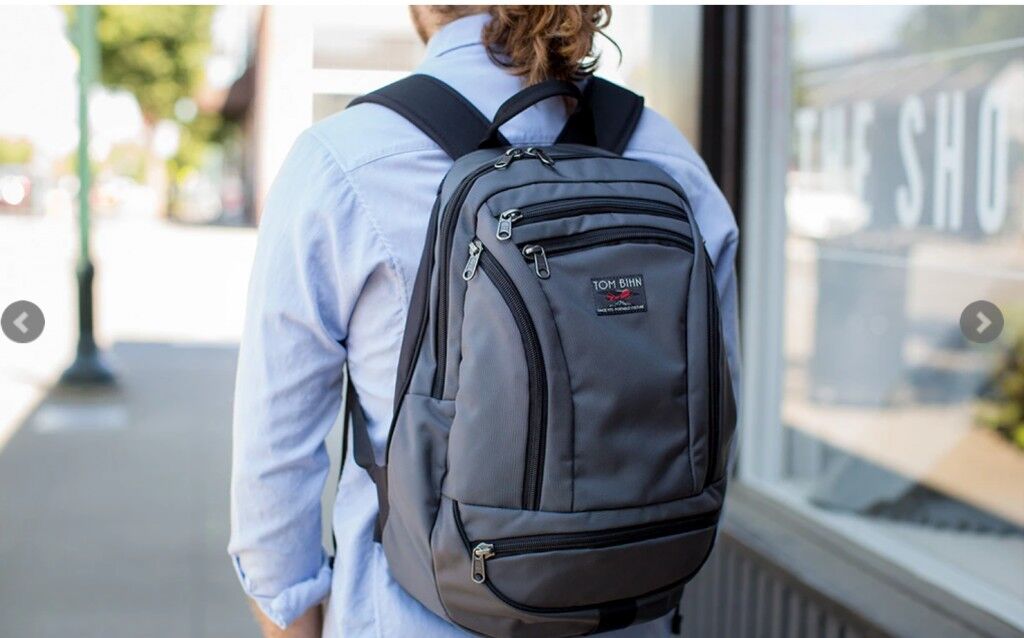 The only backpack that I could find that seems suitable for using with United is the Tom Bihn Synapse 19.
It's 16 x 11.4 x 7.9 inches and has 19 liters capacity. It fits in the United sizer too!
The main downside is the price. It's an awful lot of money for a small backpack.
The Squeezability Factor
Keep in mind that unless your bag is rigid it doesn't need to be exactly under the 9x10x17 limit.
It needs to be packed in such a way that it can be squeezed to fit inside the United Airlines sizer.
You can use a slightly larger travel bag and just not pack it so tightly.
Check our tips of traveling light if you are the type of traveler that struggles to keep their baggage down to size.
To Sum Up
Traveling with only an under seat item like a small duffel bag or backpack isn't all bad. If you can overcome the challenge of packing light you'll start to enjoy the freedom of traveling with less baggage.
Not needing to fight for the overhead bin is a great perk since there is rarely enough space for all the carry ons.
In an ideal world, United would change their personal item size to be more in line with other airlines and available underseat carry on bags.
Unfortunately, we don't live in a ideal world so don't hold your breath on that happening any time soon.
Hopefully, in the meantime, you'll find our list of personal item size bags helpful and discover a bag to fit under the seat in front for your next Basic Economy United flight.
You Might Also Like